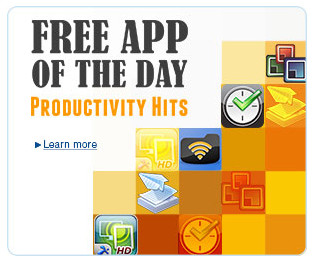 Today is a good day to download some free productivity apps from Amazon's appstore that normally cost over $50. Here's the link to the complete list of free productivity apps at Amazon.
These are some really good, highly rated apps that can be very useful. I use a couple of these all the time, as they were previously given away as Amazon's free paid apps of the day a long time ago.
There's the full version of Documents To Go, which is good for viewing and editing office files, including Word, Excel, and PowerPoint documents. Both versions of Splashtop Remote Desktop are available for free as well, including the HD version. Those are great for accessing your computer anywhere remotely. There's also a highly-rated printer share app for wireless printing, and there's Wifi File Explorer for wirelessly managing files between your Android device and a computer. All very useful and all for free, but only for July 14th, 2013.
Don't forget Amazon's regular free paid app of the day too. It's a game Chimpact that is likened to Donkey Kong Country. It looks like a fun game. It has 4.2 stars over 25 reviews.
Here's the list of all the free apps today, along with their regular price.
Note that the free Documents to Go and Spacedraw apps are keys so you have to download the regular free versions of both apps for them to work with the paid versions.