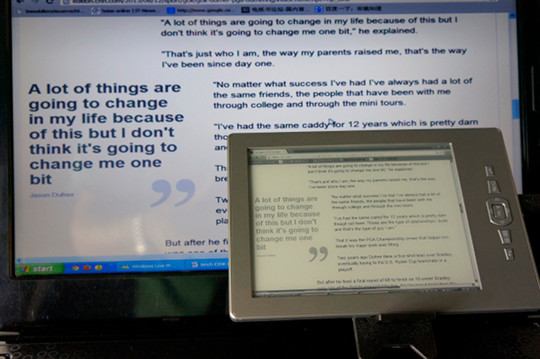 Have you ever wanted to use your ebook reader as a computer monitor? If so, I've got some good news for you.
The folks from Shenzhen Ocean Blue Technology in China are trying to raise $2000 via IndieGogo to build the first E Ink ebook reader, named CBR, that can double as a secondary computer monitor when connected via USB.
People have been using hacked Kindles as secondary displays for computers for years now, but no one has ever made that an official feature on an ereader, nor have there been any E Ink monitors released.
OBT is looking to change that, but don't you think it's a bit odd that they are only looking to raise $2000? You'd think that a company that has been in business since 2000 making MP3 players wouldn't need public funding for a new product like this. Strange…
As far as specs, it appears to be a fairly run-of-the-mill ebook reader. It has a 6-inch screen (they are also looking to develop larger models) with the option of a regular 800×600 resolution E Ink Pearl display, or an upgraded 1024×758 frontlit display. It has a Rockchip RK2818 CPU, 4GB of internal memory, 128MB of RAM, Wi-Fi, a microSD card slot, and 1500mAH Polymer Li-on battery capable of the usual 10,000 page-turns or so. It doesn't appear to have a touchscreen.
The software is based on Linux and the device supports EPUB, PDF, TXT, HTML, FB2, and RTF formats. Some features include PDF reflow, table of contents, screen rotation, zoom, and searching by file name and content. There's also mention of a comic reader included (if they are going to name the device CBR it should support comics).
Using an E Ink ebook reader as a second monitor does have some advantages, but you've got to wonder if it's really going to work very well, especially with just a 6″ screen.
One thing I notice with the pictures is that the on-screen content being transferred to the ereader is huge, much larger than you'd normally use. It looks like the content needs to be upscaled to have giant font in order to render in a size that is readable on a 6″ screen. Regardless, it is an interesting idea.
Head on over to IndieGogo to see more pictures and to donate it you'd like. You can get setup with the standard model (800×600 E Ink screen) for $69, and the advanced HD/frontlight CBR for $89. They are expected to start shipping in November.
via: E Ink Info