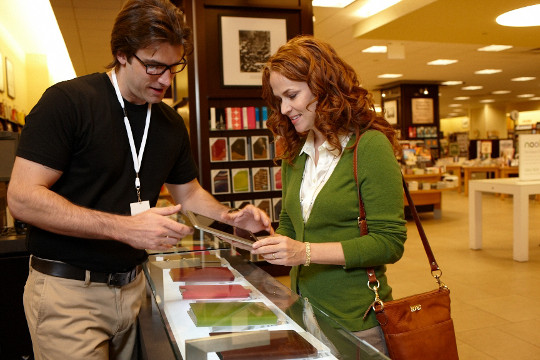 Yesterday Barnes and Noble released their 2014 first quarter financial results, and the news was pretty bad. Revenues are continually going down, and the Nook division is still sinking faster than B&N's retail division.
The retail segment had revenues of 1 billion dollars, which is down nearly 10% from the prior year. The Nook segment, which includes Nook devices, digital content, and accessories, reported revenues of $153 million, for a total decrease of 20.2% from one year ago (and it's not like the Nook was doing so great then).
This may sound like dire news for the Nook, but Barnes and Noble continues to remain devoted to the Nook brand.
In fact the press release confirms that at least one new Nook is in the works, and it will be released by the holiday shopping season. It could even be another tablet. B&N backtracked on earlier comments where they said that they would outsource future Nook Tablets:
"The company intends to continue to design and develop cutting-edge NOOK black and white and color devices. We will continue to offer our award-winning line of NOOK products including NOOK Simple Touch, NOOK Simple Touch with Glow Light, NOOK HD and NOOK HD+ at the best values in the marketplace. At least one new NOOK device will be released for the coming holiday season and further products are in development," said Michael P. Huseby, the new President of Barnes & Noble, and Chief Executive Officer of Nook Media.
Reading closer into that statement, perhaps Mr. Huseby is referring to color ebook readers and not tablets. Everyone is assuming that the statement of "color" devices refers to tablets. But B&N never actually uses the word tablet anywhere in any of their reports or quotes yesterday, as a commenter pointed out. Perhaps B&N has plans to release a color ebook reader instead. If they could pull it off, that could be one way to help revitalize the Nook brand. But that's a big "if".