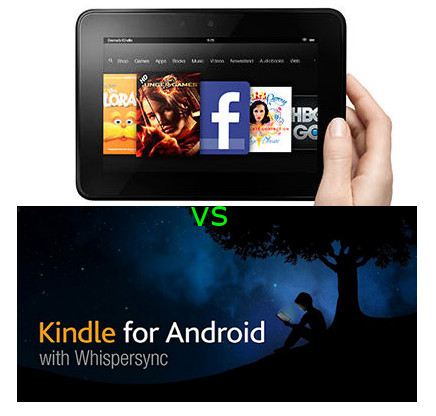 One question that comes up frequently here on The eBook Reader.com is about the differences between the Kindle Fire HD and Kindle for Android app when it comes to reading features.
I notice people questioning the differences when trying to decide between the Kindle Fire and some other Android tablet like the Google Nexus 7 with the regular Kindle for Android app installed.
"Does the Kindle Fire HD have any advantages over the Kindle Android app when it comes to reading?" people ask.
The short answer: Yes, yes it does.
The long answer: There are a few differences between the Kindle Fire's reading app and the regular Kindle for Android app that may or may not matter to you based on your reading preferences. For the most part all the main features are the same. The Kindle Fire adds some extra features like text-to-speech and multiple font choices, but all the main reading features are the same. On the flip side, the Kindle Android app offers only one thing that the Kindle Fire doesn't, 2-page landscape mode. I've listed all the major similarities and differences below.
Shared Features – Kindle Fire HD, Kindle Android App
Add notes, highlights, bookmarks (plus they get synced with other Kindle devices/apps).
Last page read synced across devices and apps.
Dictionary lookup. Both also have options to change language and to view full definition.
Both have the option to search ebooks.
Reading speed estimator (shows how long it will take in minutes to finish a chapter/book).
Send non-Amazon ebooks and documents to read via email or Send to Kindle apps.
Adjustable line spacing, margins, font size.
Different background colors: white, sepia, and black.
Go to page, location.
Kindle Fire HD Unique Features
Text-to-speech reads ebooks aloud.
Immersion reading. This is like text-to-speech but is much better. This is available on certain titles and syncs with the audiobook version and uses professional narration to read the ebook aloud. It's a great learning tool for kids because it highlights the text as it reads along. Note that you have to purchase the audiobook and ebook both for this to work, but Amazon often sells the audiobook at a discount if you buy the ebook. (Here's a list of 22 samples to test that may or may not still be free.)
X-Ray. Available for many ebooks but not all. X-Ray gives additional information about characters and places mentioned in an ebook. X-Ray is very useful for books with lots of characters like George Martin's A Song of Ice and Fire series. (Here's a review of X-Ray for Kindle for more information.)
More font choices. The Kindle Android app only offers 1 font choice; the Kindle Fire HD offers several font choices, including Caecilia, Georgia, Palatino, Baskerville, Helvetica, and Lucida.
Better table of contents. On the Kindle Fire tablets, a table of contents is generated. With the Android app it just takes you to the table of contents at the beginning of a book, and if it doesn't have links embedded it doesn't work, which is somewhat common.
The Kindle Fire has more sharing features. You can write comments and share highlights right in a book, and share them via Facebook and Twitter. The only sharing feature on the Android app is sharing progress, which is rather lame (who cares what percentage you've read of a particular book, I mean seriously).
Popular highlights. You can view most popular highlighted sections other readers have highlighted (this can be turned off in settings).
Highlight text with choices for multiple colors.
Borrow a free ebook per month with Amazon Prime. Anyone who owns a Kindle device, be it a tablet or ebook reader, and is a member of Amazon Prime ($79 yearly subscription) gets access to the Kindle Owners' Lending Library where you can borrow one ebook per month for free. This requires owning a Kindle device so the Android app doesn't cut it.
Note: This feature comparison is based off of features available on the Kindle Fire HD with firmware version 7.4.6, and the Kindle for Android app, version 4.2.0, on the 2nd gen Nexus 7. I think that all the reading features are the same for the original Kindle Fire as well—I know it has X-Ray, TTS, and immersion reading—but I can't confirm 100% all the reading features are the same because my 1st gen Kindle Fire is running Android 4.2 and I don't want to change it back.