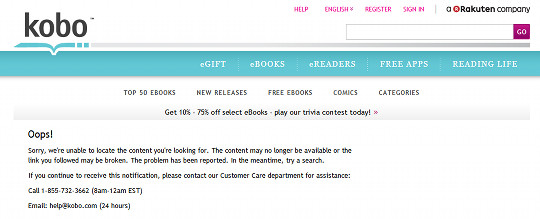 At times, Kobo is one of the most mind-boggling companies when it comes to selling their products. It's make you wonder how they can keep up with the likes of Amazon at all.
Last week I noticed that the Kobo Aura, Kobo's latest ebook reader that just started shipping a couple weeks ago, has disappeared from Kobo's website. The general description page still exists, but there's no way to purchase the device.
In typical Kobo fashion, there is no buy button, and the Kobo links in the "find a retailer" section direct to a 404 error page. The old product page and original url for the Kobo Aura also redirects to a 404 error page.
Of all the links in the retailer section for North America, the only one that turns up any sign of the Kobo Aura at all is Chapters.Indigo, a retailer based in Canada. They have them in stock, so why doesn't Kobo?
On Kobo's homepage there's an advertisement for the Kobo Aura with a "Buy Now" button. Hitting the button, however, directs to the Kobo Aura description page, where you guessed it, there is no way to actually purchase the device.
If they are out of stock, why wouldn't they just say so on the product page like when they were out of the Kobo Aura HD? Why remove the buy page all together and give potential customers no way purchase or pre-order or anything? Makes no sense.
It's been that way for at least a week now. I thought maybe it was just another glitch with Kobo's website and that the option to buy would reappear at some point, but a week goes by and nothing has changed.
Meanwhile all of Kobo's other devices are available for purchase from Kobo.com with no problem, except the Kobo Mini, which is listed as out of stock.
The irony is there's a big "Get it Now" badge on the description page for the Kobo Aura. It's like they are deliberately trying to frustrate potential buyers that go to their website to make a purchase only to find there is no way to do so, with no explanation why. What a strange way to market a new device.