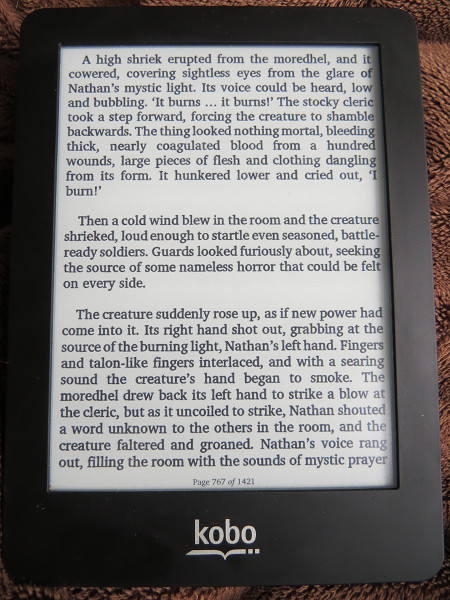 Kobo's ebook readers have settings for customizing line spacing and margins, but there are annoying limitations at times, especially when it comes to all the wasted space Kobo insists on using at the top and bottom of the screen to display the title of the ebook and the page numbers.
The title takes up about 3/8″ of screen space, and the page numbers take up another 1/2″. That's nearly an inch of wasted space on every single page, and sometimes it can be up to 3″ depending on the font size and formatting of a particular book, and whether or not the long paragraph bug decides to show up.
Some people like how Kobo's ebook readers layout text just fine, but for the rest of us there is Kobo Patcher. It gives the option to customize the size of margins and line spacing beyond what Kobo allows. It also gives the ability to set advanced settings on any font, including user-added fonts.
Kobo Patcher was developed by a user over on the Russian ebook reader forum at The-eBook.org that goes by the name Metazoa.
There's an ongoing thread in English over at MobileRead with directions for installing and using Kobo Patcher, along with hands-on reports and user reviews.
Unfortunately I have not been able to test Kobo Patcher myself. The main crux with Kobo Patcher is that it requires you to have a specific software version installed on your Kobo eReader. The biggest problem with that is Kobo releases new software updates every few weeks, so keeping up with that alone is a major commitment.
The current version of Kobo Patcher appears to work with firmware 2.8.1. It doesn't work with the newer 2.9.0 firmware on the Kobo Aura. Not yet anyway. But it should be able to work on the Kobo Glo, Kobo Mini, Kobo Touch, and Kobo Aura HD.
If you have a Kobo Reader with that particular software (I think there might be options for some earlier software versions as well) and decide to give Kobo Patcher a try, come back and let us know what you think.