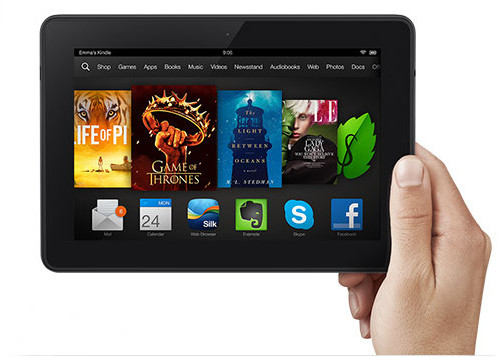 Today Amazon released the promised mid-November software update for their new line of Kindle Fire HDX tablets as well as this year's $139 Kindle Fire HD that adds a number of new features, including Goodreads integration, Cloud Collections, and more.
Most of these new features have been advertised all along, so it's good to see that Amazon is fulfilling their promises. After all, it's pretty unusual to release a new tablet with most of its distinguishing software features not available yet. It appears that Amazon's Kindle Fire software team has finally caught up with the product's release, which happened over a month ago.
The software update installs Fire OS 3.1 onto the Kindle Fire HDX and 2013 Kindle Fire HD (last year's Kindle Fire HD's will not be getting the new Fire operating system).
As usual, Kindle Fires will automatically install the update when connected to Wi-Fi. You can open the settings menu and hit "sync all content" to speed up the process. If that doesn't work (Amazon usually rolls out updates over a week or two time frame) you can install the update manually by visiting the software update page for your Kindle device.
My Kindle Fire HDX is installing the new update right now; I've been waiting on it before posting any reviews about the device. Now that I've got it I can get started. The new software version on the 7-inch HDX is 13.3.1.
Here's a list of the main changes with the new software:
The software update includes general improvements and the following feature enhancements:

Find and share books with Goodreads

Goodreads on Kindle lets you connect with the Goodreads community to follow friends and see what they are reading, and share and rate books on your Kindle Fire.

Organize your content with Cloud Collections

Organize your content library into collections like "Favorite Books" and "Sports Apps" that are synchronized with compatible Kindle devices and reading apps.

Watch movies and TV shows on another device with Second Screen

Fling movies and TV shows from your Kindle Fire to your 2013 Samsung Smart TV or PlayStation 3 using Second Screen.

Learn more about books with Smart Lookup

With the Smart Lookup feature, you can quickly look up words in the dictionary or Wikipedia or translate text in a book.

Print from Your Kindle Fire

Print Word, Excel, and PowerPoint documents, photos, e-mails, calendar events, and contact information from your Kindle Fire to a printer that supports mobile printing.

Free up storage space with 1-Tap Archive

With 1-Tap Archive, your Kindle Fire groups all content that has not been used recently so you can move it to the Cloud with just one tap.

Enhanced enterprise features

Manage security certificates and connect to your company's Wi-Fi network—whether you're at home or at work—with remote VPN capabilities.

Set alarms and view additional time zones with the Clock app

Use the all-new Clock app to check the date and time, set an alarm clock, and more.