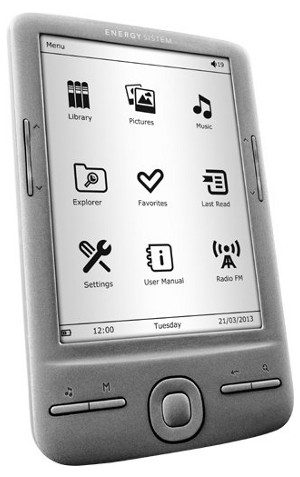 Earlier I posted about a couple of Icarus ereaders that I found listed on Amazon. I also found another oddball ereader that I hadn't noticed before, even though it's been listed on Amazon since April of last year.
The ebook reader in question is the Energy eReader E4 Mini put out by a Spanish electronics company that goes by the name Energy Sistem. I haven't posted about any of their ereaders since 2010, but they are still in the game, it seems.
The Energy eReader E4 reminds me a lot of the Pyrus Mini that I reviewed last year. It has a similar feature-set and nearly identical design, but with some extra buttons on the front and the added support for audio files and a headphone jack.
It seems to have the same 4.3″ epaper screen not from E Ink but from a competing company. It has high pixel density (230 dpi) with an 800 x 600 resolution on the small 4.3″ screen. The device only weighs 95 grams, or about 3.35 ounces.
It's a basic ebook reader. It doesn't have a frontlight or a touchscreen. It doesn't even have Wi-Fi.
But it does support Adobe DRM for ePub and PDF ebooks, and it comes with 4GB of memory, a microSD card slot, and a battery that can last up to one month on a charge. Other supported formats include TXT, PDB, FB2, HTML, RTF, MOBI. For music MP3, WMA, WAV, FLAC, AAC, and OGG.
The list price at Amazon is pretty tempting at just $51.11, but shipping adds and extra $20. That's basically the same price as the Pyrus Mini imported from Amazon UK, which is about half of what it costs on Amazon.com. Even without the extra shipping charge, I'd say the Kobo Mini is still a better value for $59 with the touchscreen and Wi-Fi, but it's good to have choices.