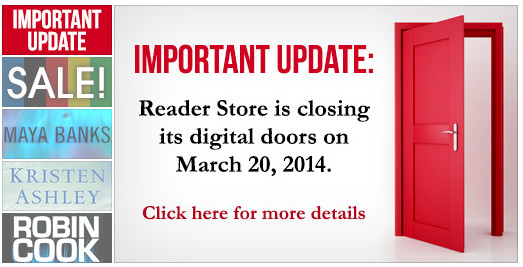 Today Sony sent out another email about the Sony Reader ebook store closing tomorrow on March 20th. The email doesn't contain any new information or give a specific date when the transition to Kobo will commence.
It just basically says to expect an email with a link to transfer your account over to Kobo in the next few days, which you can opt out of if you don't want to go to Kobo. They are probably going to send the emails out over a few day's time to avoid problems with everyone trying to transfer at once.
I decided to go to the Reader Store website one last time before it closes and ended up following a link over to the Sony blog with the official closure announcement. I noticed it had nearly 500 comments. So I scrolled down and started reading some of them to see what people thought about the Reader Store closing.
Many of the comments are questions that can be easily answered by reading Sony's closure FAQ.
But I was surprised to read so many comments about how people dislike Kobo's website compared to Sony's (well, not that surprised considering my own problems with Kobo's website). Many seem to argue that Sony's website is easier to navigate, it has more features, and contains more helpful information about specific titles.
I thought I would find more comments with people complaining about Sony deciding to close their ebook store, but it seems there are more comments complaining about Sony choosing Kobo to send accounts to.
Here's a few examples:
T Cromwell wrote:
I am extremely disappointed in to hear this news. I dislike the kobo site. It is much more difficult to navigate and browse than the Sony site. Even when my sony reader gave up the ghost and I started reading on my samsung tablet, I have continued to use the sony reader app and website.

Dawn wrote:
Does Sony have any idea how awful Kobo's website compares to Sony's? They don't have nearly the classy look nor the information available that Sony does. I can find most everything I need right on the website without having to send Sony an email. This site makes it so easy to locate information & clear to read. Kobo has no author notification available nor do they have an FAQ. NO FAQ, impossible!!! I am VERY unhappy to lose Sony. I have been very happy doing business at Sony. Now we have to go to a second rate site.

Dianne wrote:
Not all Kobo books transfer to the reader. I purchased a book that's an epub, but not an Adobe DRM. Now I'm out the money, and Kobo offers no help. I didn't have this type of problem at the reader store. How are we supposed to know which Kobo books the ereader supports?
That last comment brings up a really good point. Kobo's new website design no longer lists what format you are buying. Some Kobo ebooks are available in regular Adobe DRM ePub format, but not all. Others are only available in Kobo's proprietary .kepub format, which isn't compatible with Sony Readers. Does Kobo have a plan for that?