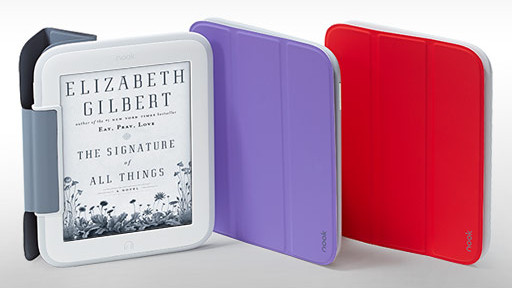 This past week Barnes and Noble issued an update for the Nook GlowLight to improve the on-board shopping experience and to add a few new features.
Now this week Barnes and Noble is running a sale on the Nook GlowLight to try and get it out into more people's hands.
The Nook GlowLight normally sells for $119, but until April 13th it is marked down to $99 both online and in B&N retail stores. Or if the newer Nook isn't doing it for you, you can still get a regular Nook Simple Touch from Best Buy on clearance for $49.
The Nook GlowLight has a 6-inch 1024 x 758 resolution screen. It uses a Pearl display from E Ink, not the newer Carta screens—so far those are only on two devices, the Kindle Paperwhite 2 and Tolino Vision.
The GlowLight gets its name from the frontlight that illuminates the screen, which turned out much clearer and more evenly-lit than the first gen model. Other specs include an infrared touchscreen, 800 MHz processor, Wi-Fi, 2.5GB of usable internal storage space (only 500MB for sideloaded content, though), and the battery can last up to 8 weeks. Of course this particular model is notorious for the lack of a memory card slot.
One thing that should be avoided when purchasing a Nook GlowLight, it seems, is B&N's official Clip Cover. I happened to notice that they are on sale this week too, but the reviews are dreadful. There are three colors. Over a combined 69 reviews, 65 are 1 star reviews. Yikes! I can't remember ever seeing that high of a percentage of negative feedback for a cover before. This neoprene case for the Nook GlowLight is rated much better, but it's only sold in stores for some reason…