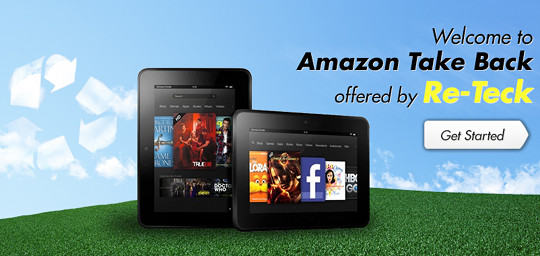 So I've already posted articles about what to do if your Kindle is ever lost or stolen, along with how to fix a frozen or unresponsive Kindle or a Kindle with wireless issues. But what do you do with a Kindle that is totally broken and nonfunctional?
You might be surprised to find out that you can actually sell a broken Kindle and get good money for it. Another option to dispose of a broken Kindle is to send it in for recycling. Or if your Kindle still works and you just don't use it anymore you can use Amazon's trade-in program to get money back in the form of an Amazon Gift Card.
First and foremost, all Kindles, even refurbished units, come with a 1 year warranty. So if your broken Kindle is less than one year old make sure to contact Amazon support to see if you qualify to get a new one.
Sell Broken Kindles on eBay
If your Kindle is broken and you don't want to deal with fixing it, you can sell it for parts on eBay.
I was shocked to see how much broken Kindles sell for on eBay, especially E Ink Kindles. In the past week a Kindle Paperwhite with a cracked screen sold for $46, a Kindle Keyboard that won't hold a charge sold for $35, and a broken Kindle Fire HD sold for $28.
How to Recycle Broken Kindles
If you aren't into selling stuff on eBay, you can send your broken Kindle in to have it recycled with Amazon's Take Back Program. You'll get a prepaid UPS shipping label so recycling doesn't cost anything; you just have to pack the Kindle up and drop it off at a UPS facility. Here's the page at Amazon with directions for recycling:
There's also this separate page for recycling Kindle products in Europe.
They mention on the recycling website that all units are sent to a secure facility where the device will undergo "secure data destruction".
On an odd side note, I'm linking to the page at Amazon instead of the recycling website because they have the most unusual disclaimer that I've ever seen. It basically says that they don't want anyone linking to any page of their website without prior written consent. As far as running a website goes it doesn't get any weirder than that. If they don't want a backlink that bad, I'll abide.