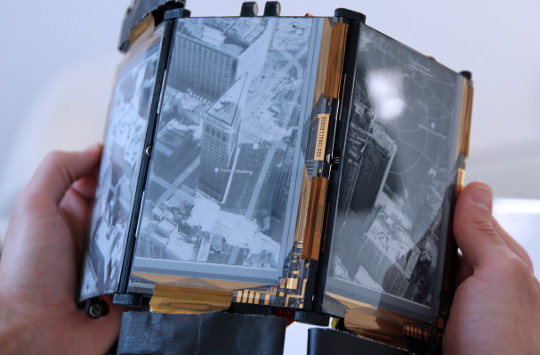 The folks at Queen's University's Human Media Lab are back at it again with their truly odd take on epaper prototypes.
Last year they demoed what I dubbed the ridiculously laughable PaperTab. Now they've got another prototype building off the same idea that they are showing off and it's just as bizarre and unlikely to ever be produced in any shape or form as the PaperTab.
The device is called the PaperFold. It is a multi-screen, foldable smartphone that lets users add and remove screens as needed.
Here's more from the Human Media Lab blog:
The shape-changing smartphone allows users to fold open up to three flexible electrophoretic displays to provide extra screen real estate when needed. Displays are detachable such that users can fold the device into various shapes that can range from an ultra notebook shape to a foldout map.
Each epaper display can act independently or be used as part of a single system. For instance, if you fold the device into a notebook form a keyboard appears on the bottom screen for typing. Or you can just use a single screen as a smartphone.
The screens used in the prototype are flexible epaper displays made by Plastic Logic, a company that has somehow managed to remain in the epaper industry for 14 years without actually releasing any devices that people actually use. And it doesn't look like the PaperFold is going to change that anytime soon.
Here's a look at an early prototype of the PaperFold multi-screen smartphone:
PaperFold: Foldable Smartphone
via: Liliputing