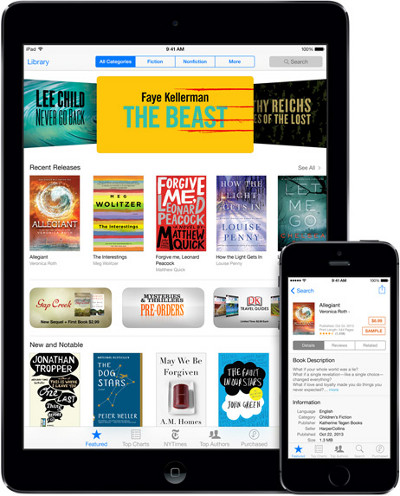 Yesterday Apple announced the upcoming release of iOS 8, Apple's latest operating system for mobile devices including the iPad, iPhone, and iPod touch.
The updated software adds a host of new features. Among them are a couple of changes to iBooks, Apple's proprietary ebook app.
First, the iBooks app will now come preinstalled as part of Apple's core apps. And like them, it will be a permanent fixture on all iDevices and won't be able to be uninstalled. You can still use other ebook apps, of course, but Apple wants to make sure iBooks is at the forefront.
The biggest change to iBooks comes in the form of sharing. One of the new features with iOS 8 is Family Sharing. Here's more from the press release:
iOS 8 introduces Family Sharing, making it easier than ever to communicate and share purchases, photos and calendars within the same household. Family members can browse and download each other's iTunes, iBooks or App Store purchases. Up to six members can participate, each with their own Apple ID. Parents can create Apple IDs for children, which includes Ask to Buy, requiring parental permission for purchases.
This makes is so that ebooks purchased through Apple's iBook store can be shared among family members. Most other ebook platforms, including Kindle and Adobe, allow the same sort of thing where an ebook can be issued to up to six different devices at once, but only when associated to a single account. The Family Sharing concept should make sharing ebooks easier, among family members at least.
An article at 9to5mac notes a couple other changes to iBooks not mentioned in the official announcement or the press release. Apparently iOS 8 also adds the option to view ebooks as a series in iBooks, and there's a new feature for auto night mode.
With iOS 8 it seems that Apple is going to start taking ebooks a little more seriously, instead of regarding them merely as an afterthought.