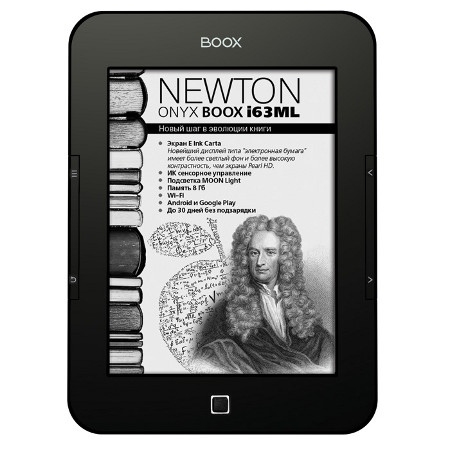 I've been running a lot of searches on YouTube lately for reviews of ebook readers that are unavailable here in the United States. It's always interesting to see new devices in action even if I can't get my hands on them personally.
Today's YouTube search brought up a lengthy video review of the Onyx Boox i63 Newton that was just released in Russia a couple of weeks ago. The video lacks narration but it gives a 45 minute look at most of the features on the i63 Newton.
Onyx has a bunch of new ebook readers coming out; this particular model has a lot going for it. The i63 Newton has the same screen as the 2nd gen Kindle Paperwhite: a 6-inch E Ink Carta screen with a resolution of 1024 x 758.
The device also includes a frontlight, it has an infrared touchscreen that supports multitouch, and it comes with a sleep cover. Other goodies include a microSD card slot, physical page-turn buttons, and 8GB of internal storage space.
One of the most interesting aspects of the Onyx i63 Newton is the fact that it runs Android and can install apps from the Google Play store. It doesn't run the newer 4.0 version that comes on some of Onyx's other ereaders; instead the Newton runs Android 2.3.1. That's a bit of a downer but it still opens the device up to all kinds of additional features and reading options. The video shows the Android appstore at the 19:30 mark.
The video is too long to watch all the way through, but jumping around you can see a lot of different aspects of the software, which looks far more advanced than anything we've got in the US.
Onyx Boox i63ML Newton Video Review