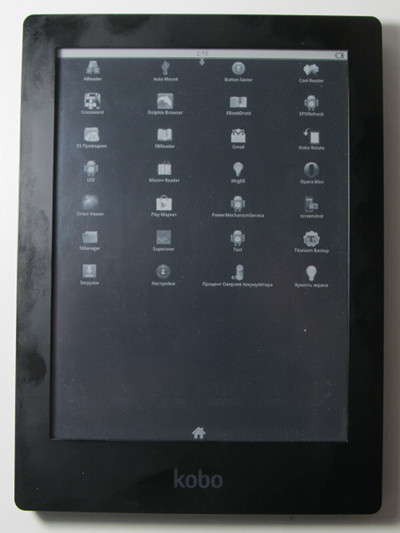 Last week I posted a video showing the Kobo Glo hacked to run Android. Now I've got Android running on my Kobo Aura HD too, and it's even better because I used the dual-boot hack that enables the option to boot either the internal stock Kobo operating system or the Android operating system from a microSD card.
The dual-boot hack is the better option because it's like having two devices in one. You can use the Kobo operating system, called Nickle, or Android at any given time. Plus there's less chance that you'll break your device because you don't have to take it apart to swap out the internal memory card, like what happened to my Kobo Glo—the power switch stopped working after I took it apart.
To get Android on the Kobo Aura HD, all I did was follow these directions on Angor's blog.
The process is straightforward and is easy to accomplish, especially if you've ever installed any of the other Kobo hacks, such as adding night mode or multi-touch. You don't really need any technical know-how. You basically just have to download a few files, extract them, and move them onto the Kobo device.
There used to be links to dual-boot hacks for the Kobo Glo and Kobo Touch in the article, but they've since been removed and are now only in the comments section so I'm not sure if this works on those two devices or not. The Kobo Aura HD is the only one that I've heard about dual-boot working.
Here's my take on how to install the dual-boot Android hack onto the Kobo Aura HD. But first you might want to checkout my review and video review of the dual-boot hack showing it action.
Warning: I have found that this Android software is very unstable on the Kobo Aura HD and don't recommend installing it unless you are very tech-savvy and have lots of patience for fixing problems.
Kobo Aura HD Dual-Boot Android Hack
Summary
Write Android image to microSD card.
Install first patch.
Install dual-boot patch (takes 15-20 minutes).
How to choose operating system to boot.
Step #1
First, you need an 8GB or larger microSD card. Then you need to connect it to your computer using a card reader or adapter.
Then download the Android image for the Kobo Aura HD here or here. Extract the file on your computer; inside you will find the Kobo Android image file. Now you need to write that file to a microSD card.
I always use WinImage for this, or you can use Flash Drive Image Writer, as Angor's directions suggest.
With WinImage, you need to run the program as administrator with Windows. Then select Disk > Restore virtual hard disk image on physical drive. Then select your microSD card from the list and proceed to choose the Kobo image file that you just downloaded and extracted (on my computer I have to select to view all files because it only lists .vhd by default). It takes quite awhile to finish writing the image.
When that's finished, go ahead and put the memory card in the Kobo Aura HD and move onto the next step.
Step #2
Plug the Kobo Aura HD into a computer with a USB cable and select to connect it to the computer to transfer files.
Download this first patch file (fix-udev-tgz.zip). Then extract it. Place the extracted file (KoboRoot.tgz) in the .kobo folder on the Kobo Aura HD.
Safely disconnect your Kobo from the computer. It will automatically restart on it's own after a few seconds.
Step #3
Repeat step #2, but use this different file this time: main patch (dualboot-android-aurahd.zip).
Extract the file. Inside there are three items this time instead of one. Move all of them into the .kobo folder on the Kobo Aura HD, then safely disconnect and the device will automatically restart again.
This time it will take 15-20 minutes for the Aura HD to boot. This is because it is creating a backup file of the internal operating system. This gets placed on the Android microSD card in a folder called .KoboBackup.
Step #4
The Kobo Aura HD will automatically boot the stock Kobo operating system upon boot; you don't have to do anything. To boot Android instead, you need to hold the frontlight button immediately after turning the device on.
The timing is a bit tricky at first. And the device has to be turned on from a powered-off state, not sleep, to activate Android.
The Kobo screensaver says whether the device is sleeping or powered off at the top of the screen. You just have to hold the power slider for a couple extra seconds to get the device to power off instead of sleep.
Then to activate Android, hold down the frontlight button as you turn the device on.
An Android logo appears when you do this correctly. The Kobo system shows five dots when it boots.
Source: Angor's blog