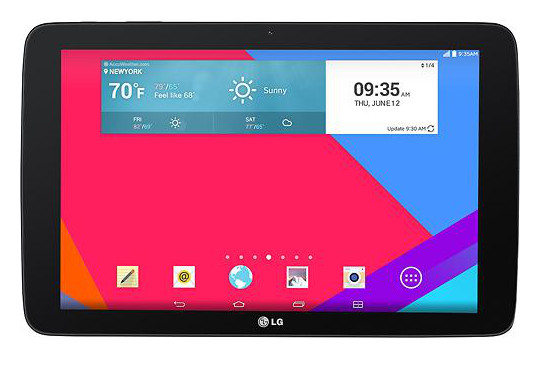 LG is releasing a new trio of Android tablets for summer, the G Pad 7.0, the G Pad 8.0, and G Pad 10.1.
The first model to hit store shelves is the LG G Pad 7.0. It's available now at Best Buy for $149, but only in select stores and shipping isn't offered yet. That's okay because Newegg is selling the G Pad 7.0 online, and through eBay as well.
The G Pad trio of tablets are almost identical to the Samsung Galaxy Tab 4 lineup. In fact the G Pad 7.0 has almost the exact same specs as the 7-inch Galaxy Tab 4. The main difference is the G Pad 7.0 retails for $50 less.
The G Pad tablet even offers the same unique remote control and dual-window features found on Samsung's tablets. The only real difference that I can find is the LG 7.0 doesn't have the super-thin side bezels like the 7-inch Tab 4—the overall width is about a quarter inch wider. And there's a discrepancy in RAM: 1GB for the G Pad vs 1.5GB for the Tab 4.
Specs are solid for the price. It has 7-inch 1280 x 800 IPS display. It runs Android 4.4.2 KitKat and is powered by a Qualcomm Snapdragon 1.2GHz quad-core processor, with 8GB internal storage space, plus a microSD card slot for expansion up to 32GB.
The G Pad 7.0 has Bluetooth, Wi-Fi, a 3MP rear camera, 1.3MP front camera, headphone jack, USB port, QPair 2.0, 4000 mAh lithium-polymer battery, and a single rear speaker. The overall dimensions are 7.45″ x 4.48″ x 0.4″.
The G Pad 8.0 and G Pad 10.1 have basically the same specs as the G Pad 7.0, with the same processor and screen resolution. The difference is they have double the internal storage space, an upgraded 5MP rear camera, and bigger batteries. They should be available in a few weeks.