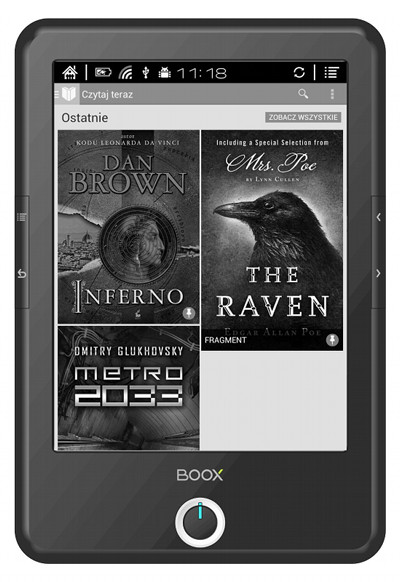 Here's a bit of good news. One of the most interesting new ebook readers of the year is now available for purchase in the United States, and I just bought one so look forward to a review in a couple weeks.
The Onyx Boox T68 is now available on Amazon for $199 with free shipping. Onyx's ebook readers aren't typically sold in the US, so this is a nice surprise.
The Onyx Boox T68 has a lot going for it. It has a 6.8-inch E Ink Pearl display with a resolution of 1440 x 1080. That's the same screen found on the Kobo Aura HD. And the fun doesn't stop there. The T68 runs Android 4.0.4 and comes with Google Play onboard to install apps.
The T68 also sports physical page turning buttons, it supports audio, Bluetooth, and it includes a frontlight, microSD card slot, and Wi-Fi. It has 4GB of internal storage space and is powered by a 1GHz Cortex-A9 processor with 512MB of RAM. The touchscreen is capacitive, and it supports 2-points touch.
The Kobo Aura HD better watch its back because on paper the Onyx T68 has a lot more going for it.
The $199 price isn't bad either, considering it's being imported from Europe. The Kobo Aura HD sells for $169. Having to pay $30 more for all the upgrades isn't as much as it could've been. If you buy the T68 from a European retailer and have it imported it's more like $250.
The T68 has turned up in a couple of non-English video reviews. A new video review in English turned up this morning on YouTube showing the Kindle app and some other features in action. Take a look..
Review Onyx Boox T68 Lynx