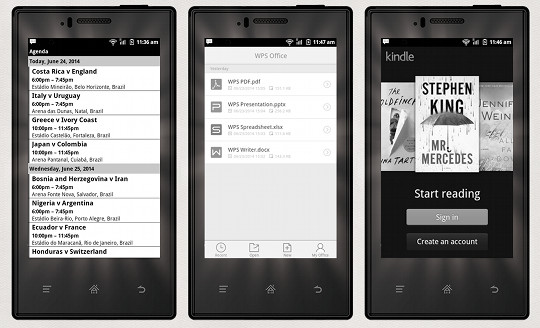 Onyx is set to release a new E Ink phone next week called the Midia InkPhone.
It's the first phone to use an E Ink display as the main screen. There are other products such as the Yotaphone and smartphone covers that feature an E Ink screen as a secondary display to the main LCD screen, but the Midia InkPhone has no LCD screen at all.
Instead it has an outdoor readable 4.3-inch E Ink Mobius display with a resolution of 800 x 480 (217 ppi). The device features a capacitive touchscreen with 2-point touch. It also has a frontlight to illuminate the screen in the dark.
As far as specs are concerned, everything is pretty low-end. Plus the operating system is outdated. It's based on Android 2.3.5 Gingerbread. They say it has been optimized for E Ink so that's a plus, but that old of an OS is going to lead to some app incompatibility issues.
The InkPhone is powered by a Cortex A9 1 GHz processor with 512MB of RAM and 512MB of storage space. It has a microSD card slot, SIM card slot, 3.5mm headphone jack, Wi-Fi, Bluetooth 2.1, and a speaker. The phone measures 133.6 x 70.1 x 9.6mm, and weighs 120 grams.
Battery life is rated at up to two weeks, but I'm skeptical about that claim—perhaps with wireless and Wi-Fi turned off all the time. The battery is an 1800mAh Li-ion.
It's a little surprising that there is no camera. It's often difficult to take good pictures with an LCD phone or tablet outdoors because it's hard to see the screen with sunlight and glare on it. An E Ink phone would only show grayscale on the screen, of course, but at least you could see what you are taking a picture of to line things up properly.
The Midia InkPhone is available for pre-order exclusively from Onyx-Boox.com. The price is 149 euros. The phone is set to ship after July 4th.
No reviews have been posted yet for the Onyx Midia InkPhone. But there's this YouTube video that shows a hands-on with a prototype.
Onyx MIDIA InkPhone hands-on