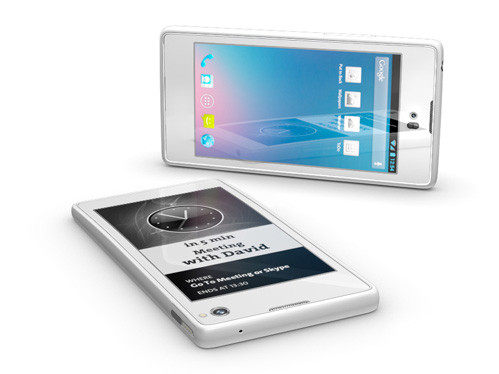 2013 looks like it's going to be the year of the E Ink smartphone. In earlier posts we've seen prototypes of E Ink covers for the iPhone, Android-powered E Ink phones, and dual-screen phones.
A Russian company called Yota Devices aims to be one of the first companies to release a dual-screen phone that has an E Ink screen on one side of the device and an LCD screen on the other side. The YotaPhone is supposed to start shipping later this year in fact, and Yota Devices wants to ship them worldwide if they can find the carriers to do it.
The YotaPhone runs Android Jelly Bean and has a 4.3″ LCD screen with a resolution of 1280 x 720 and a 4.3″ E Ink screen. It also comes equipped with a 12MP camera, a 1.5GHz Snapdragon processor, 2GB of RAM, and the option for 32GB or 64GB of onboard storage.
The phone uses the E Ink display as a secondary display for screenshots from the LCD side, so it doesn't actually run in live time like the LCD side. But apparently Yota has an SDK for developers to make it so apps can be used from the E Ink side.
There's a lot of hype around devices like this, and the iPhone cover idea is the same sort of approach, where the E Ink screen is basically for screenshots and not interactivity unless the app developer chooses to design their app to be interactive on the E Ink side—seems like a limited approach that will be unlikely to garner much interest from app developers.
I think the better idea would be to let the E Ink screen run the operating system normally. Sure the screen is going to flash for refreshes and it's not going to be nearly as smooth as on the LCD side, but at least it's a lot more functional that way.
Regardless, it's a good start, and other companies will surely spin-off similar ideas in the coming months. Here's a look at the YotaPhone in action.
YotaPhone: E Ink and LCD Dual-Screen Android Phone