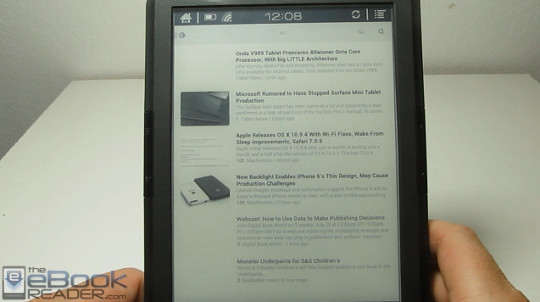 One of the Android apps that I wanted to try on the Onyx Boox T68 is Feedly, an RSS news reader app.
Most ebook readers, including the Kindle Paperwhite, Nook Touch and Kobo eReaders, don't support reading RSS feeds natively, and using their web browsers for such is too troublesome. You can setup Calibre to retrieve news feeds and deliver them to an ereader in ebook format, but that's not the same thing as following news feeds as they get updated with an RSS reader.
The Boox T68 is one of the few E Ink ereaders that can install Android apps, and I was pleased to find that the Feedly app actually works quite well on the Boox.
It takes a few extra seconds to load initially than it does on a tablet (in the video below it takes longer than normal to load because I forgot I was uploading a YouTube video review at the time, and my internet drops to near dial-up speeds when doing so).
The text is easily readable in the menus and articles, although the text could stand to be darker, but that's because of Feedly's ridiculous insistence on using grey text instead of black.
Overall the app works surprisingly well considering that it's not meant for a device with an E Ink screen. I like that you can select to open articles in the web browser, and not Feedly's built-in half-ass version. Scrolling works well enough to be functional. What's good about Feedly's layout is you only have to swipe once to scroll through the list of articles to advance pages, which makes things easier with the way E Ink refreshes.
The only problem I have is it's hard to tell when the save for later bookmark is activated. It turns green normally, but on the E Ink screen you can't see that. It's slightly darker when pressed; it's hard to tell.
Onyx Boox T68: Feedly App Video Review