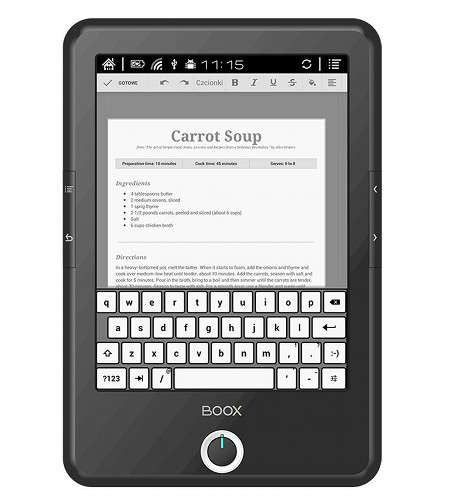 Today I was pleased to find a software update available for the Onyx Boox T68 Lynx. The update seems to have fixed most of the touchscreen issues—the accuracy is much better now and so is responsiveness.
Onyx also added the ability to force a full page screen refresh by holding down the menu button—it works fast and comes in handy when text gets fuzzy or the screen gets too messy with afterimages when using certain Android apps.
One other difference I noticed is that AlReader is now called OReader. I guess the change is so that you can install the regular AlReader for Android app if you want, because it now can be installed separately from Google Play.
I've been stalling on finishing the written review for the Boox T68 because I was hoping a firmware update would come out to fix two of the main problems that I've been experiencing. Now that the touchscreen is fixed, the one other problem that I've encountered with this device is when the battery gets below 50%-60%, it starts crashing constantly, to the point where the device is virtually unusable. Then it gets stuck in a never-ending boot loop until getting plugged it into an AC charger. I've heard a number of similar reports, so it's not an isolated problem.
I don't know yet if this update fixes the issue; it will take a couple days to drain the battery low enough to tell. Update: Unfortunately the problem still exists. When the battery level drops below 50% the device goes haywire until being plugged in to charge.
The first time I tired to install the new update it didn't work. The device went through the process and acted like it installed it, but the firmware version was still the same in the settings menu. I noticed the update.zip file was in the library list, so I went back into the update section and chose to "Check update from local storage". Then it installed properly.
To get the update on the T68 Lynx, go to Settings > About > System Update > Check update from cloud.
The new software on my device is build number 2014-06-20_12-42_1.5.0_fa39569. But apparently it's not the same for everybody. HarryT at MobileRead has an entirely different version in the UK: 2014-06-26_16-16_1_5_0_c3193d0.
Note: There are different models of the Onyx Boox T68. This update is referring to the Lynx model specifically. See this thread at MobileRead for updates on the Onyx Boox T68 UHDML model.