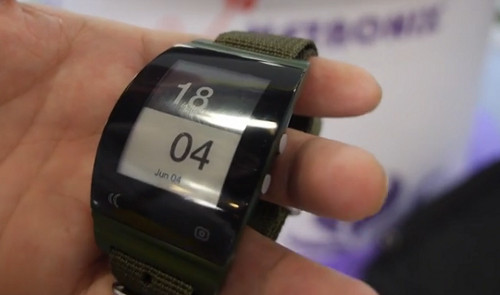 Netronix has a new smartwatch in the works that features a flexible 1.73-inch E Ink display, with a resolution of 320 x 240 (that's 231 pixels per inch).
Generally I don't follow smartwatches because I don't see ebook reading devolving to that state any time soon—let's face it, it wouldn't be very much fun to read a book on a watch. But I did find it interesting that Netronix's new smartwatch supports multiple platforms.
The watch itself runs Linux, but it works with devices that run Android and iOS, more specifically Android 4.4 and iOS7. The watch can be paired to smartphones using Bluetooth.
It's a similar concept to the E Ink smartphone covers that are starting to come out, but those all seem to be tied to specific devices and platforms.
The idea of being able to use one device on both Android and iOS is an intriguing one. Perhaps in the future there will be E Ink ebook readers that can be paired to any phone or tablet to display ebooks from those devices.
Think about it. It would be really cool to have an ebook reader that could display ebooks natively as well as from an Android phone or tablet or an iPhone/iPad over Bluetooth, without needing to run the software required for those devices specifically. Now that would be the ultimate ereader.
Netronix has been designing and manufacturing E Ink ebook readers for many years. Their devices are usually sold under other brand names. Kobo's ebook reader's are made by Netronix, for example.
Netronix E Ink Smartwatch
via: ArmDevices