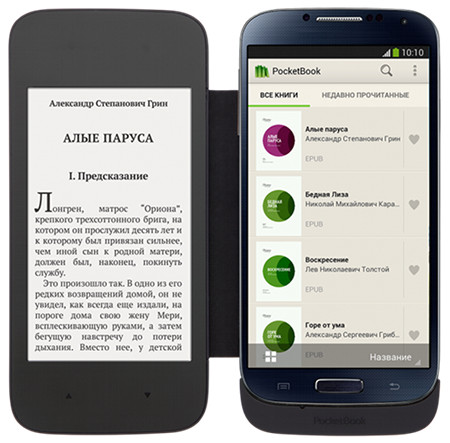 E Ink has been trying to crack the smartphone market for the past few years with their low-power outdoor readable epaper displays. Yesterday the Onyx Midia InkPhone went up for pre-order—it's a new phone that uses an E Ink screen instead of LCD.
Other products are using E Ink screens as secondary displays for smartphones. The PocketBook CoverReader is one of the first such devices to hit the market.
The PocketBook CoverReader is a specially designed case for the Samsung Galaxy S4 that has a 4.3-inch E Ink screen on the inside of the cover. The case snaps onto the back of the Galaxy S4 and connects to the USB port to transfer text and images from the LCD screen over to the E Ink screen.
By using the "Share" feature within certain Android apps you can view ebooks and text documents using PocketBook's reading app, along with emails, web articles, and images.
The E Ink screen can also display information about missed calls and unread messages. You can set wallpapers to display on the E Ink screen as well.
The screen itself is a 4.3-inch E Ink Pearl display. The resolution is 800 x 480. That's 217 ppi.
The PocketBook CoverReader sells for 3490 rubles in Russia from PocketBook's website. That equates to just over $100 US dollars.
The first video review turned up on YouTube yesterday. It isn't in English but it shows how the CoverReader attaches to the Samsung Galaxy S4, and shows a little about how the device works. PocketBook also recently uploaded a video that shows a little about the CoverReader.
PocketBook CoverReader for Samsung S4
PocketBook CoverReader