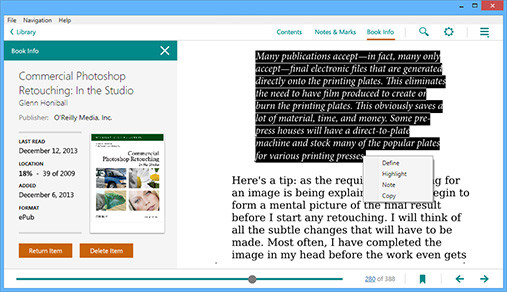 Bluefire has released a desktop reader program for Windows computers. The app supports ePub and PDF files and works with Adobe DRM, both the old and new Adobe DRM.
Bluefire has made a name for itself with reading apps for iOS and Android. They were one of the first to offer support for DRM'd ebooks, including ebooks from libraries.
Bluefire also licenses their reading software to a number of companies around the world to offer their own branded reading apps.
In fact, looking over the Bluefire Windows app page, selling re-branded versions of the program seems to be Bluefire's primary objective, instead of marketing the program to consumers directly.
Nevertheless, it appears that anyone can download the program to read ePub and PDF ebooks on a Windows computer running Windows 7 and up (Vista is said to work as well). However, my Windows 7 PC will not install the program—it gives an error, spits it out, doesn't want anything to do with it.
System requirements are as follows:
Processor (minimum): 1 GHz
RAM (minimum): 512 MB
.NET Framework 4.5 or higher
Supported client operating systems (32-bit and 64-bit):

Windows 8.1
Windows 8
Windows 7 SP1
In addition to supporting ePub and PDF ebooks, the Bluefire Windows program includes the usual list of reading features: adding bookmarks, highlights, notes, dictionary lookup, search, sharing, and the app offers the ability to adjust font type, themes and margins. The program also syncs across multiple devices and offers the option to export annotations.
As mentioned earlier, Bluefire for Windows supports both the new and old Adobe DRM systems. The only problem with that is it opens up the door for more DRM-related problems in the future. If an ebookstore decides to use Adobe's new DRM and you use the Bluefire Windows program to download an ebook from them, it'll forever be stuck with the new DRM that's not compatible with devices and apps that support the old DRM.