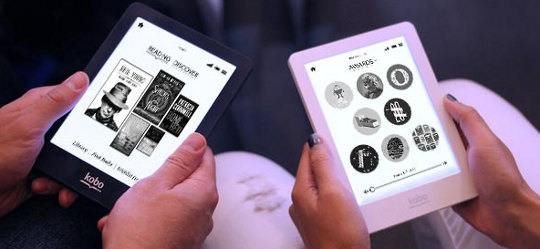 Kobo has issued a new software update, version 3.5.0, for the Kobo Glo, Kobo Aura, and Kobo Aura HD. They've also updated the Kobo PC desktop software to version 3.9.0.
Kobo always releases their software updates gradually in different parts of the world. Since I live in the US I never seem to get updates for a few weeks after they are released, so I can't give any first-hand reports on the new software, but several people at MobileRead have offered their thoughts on what the new software provides.
If you are the impatient sort and don't want to wait for the update to automatically download, like always you can download the new software manually from the direct links to Kobo Firmware thread at MobileRead and sideload it.
According to early reports, these are some of the changes you can expect with the new 3.5.0 firmware:
Long paragraph bug fixed for ePubs (about time).
The frontlight returns to the same level as before waking the device from sleep or unplugging from a PC.
The option to automatically turn off the frontlight has been removed.
Web browser scrolling is smoother and faster.
Faster sync.
Improved annotations.
New Adobe RMSDK, support for new Adobe DRM.
Various bug fixes and stability improvements.
There might be some other changes that haven't been mentioned yet. I don't know why Kobo can't just create a webpage about software updates and post changelog notes along with them like Amazon does.