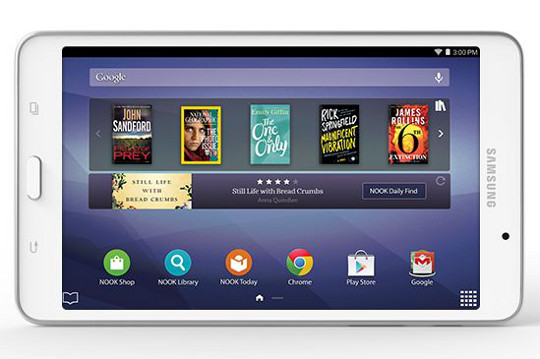 Earlier today Barnes & Noble unveiled their new co-branded tablet with Samsung, called the Samsung Galaxy Tab 4 Nook. Ever since the partnership was first announced, we knew that B&N would be using Samsung's Galaxy Tab 4 hardware, the big question was what would B&N do to customize the software.
After watching some hands-on YouTube videos, it's clear that the changes are very minor indeed. The "custom Nook software" basically consists of a homescreen widget and the addition of the same style of Nook library on previous tablets. That, and a book button was added to the menu bar to be able to access reading anywhere with "just one tap," as B&N's marketing team keeps emphasizing (then it's funny when it takes two taps to launch the book).
The reading app looks virtually identical to the regular Nook Android app, and it has the same features. Nothing new at all, really. Just a thing called Nook Today, a recommendation engine.
The tablet carries the name Nook on the box (not the device itself ironically) but it's still a Samsung tablet through and through. The hardware is 100% the same as the 7-inch Galaxy Tab 4, and Samsung's custom TouchWiz interface is still present.
There's a hands-on report with the new Galaxy Tab 4 Nook over at Liliputing, with the video review embedded below showing the Nook's reading features in action. I also included a second video because it shows some more aspects of the device and I like the narrator's honest take on the situation—it's spot on.
Hands-On: Samsung Galaxy Tab 4 Nook
The New Nook Hands-On: More Galaxy Than Ever