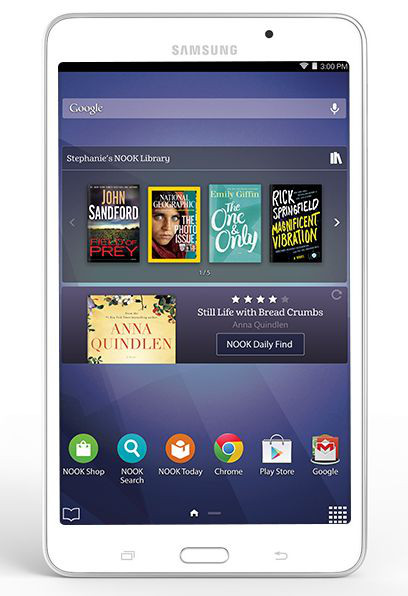 Today Barnes & Noble and Samsung introduced their new co-branded Galaxy Tab 4 Nook tablet. It's basically a copy of the 7-inch Samsung Galaxy Tab 4 that I reviewed a few months ago, but with custom Nook software tweaks.
The retail price is the same as the Galaxy Tab 4: the list price is $199 but they are selling them for $179 from B&N.com. It's available in white and black, and they are shipping right now.
B&N is giving customers an incentive to buy their new tablet by giving away $200 of free Nook content, plus a $5 starter credit.
The fine print indicates the following content is free:
$5 promotional credit
3 Nook applications: Doodle Farm, Astraware Crosswords Deluxe, and Hidden Object Home Makeover
3 Nook Books: I am Number Four by Pitticus Lore, Freakonomics by Steven D. Levitt and The Wanderer by Robyn Carr
3 Nook Videos: one (1) episode each of Orphan Black, Hannibal and Veep
3 first-time NOOK Magazine 14 day trial subscriptions from the following selected titles, including the current and past 12 issues: Cooking Light, Cosmopolitan, Food Network Magazine, HGTV Magazine, Men's Health, People, Real Simple, Rolling Stone, Sports Illustrated, US Weekly, WIRED and Women?s Health.
That last offer is pretty lame for magazine trials, especially when you can get hundreds of free magazines from the local library without ever having to return them.
B&N doesn't get very specific with the specs of the Galaxy Tab 4 Nook, but everything appears to be exactly the same as the regular Galaxy Tab 4. The IR blaster is even shown in the pictures, even though B&N does not mention the feature at all anywhere on the description pages. Below are the specs for the Galaxy Tab 4 since B&N is lacking in that department; presumably everything is the same for the Nook version.
Samsung Galaxy Tab 4 Specs
7 inch, 1280 x 800 pixel display (212 ppi)
1.2 GHz quad-core Qualcomm processor
Android 4.4 KitKat operating system
1.5GB RAM
8GB internal storage
MicroSD card slot for cards up to 32GB
3MP rear camera and 1.3MP front-facing camera
Dual-Band Wi-Fi 802.11 a/b/g/n
Built-in IR blaster, which allows you to use the tablet as a universal remote control
Use two applications at once
Multi-user mode, including kids mode
Bluetooth 4.0
GPS
Micro USB port
Speaker, headphone jack, mic
4,000 mAh battery.
Battery life: up to 10 hours
Dimensions: 7.4" x 4.25" x 0.35"
Weight: 9.74 ounces
Update: Here's some hands-on reports and video reviews showing the new Galaxy Tab 4 Nook in action.