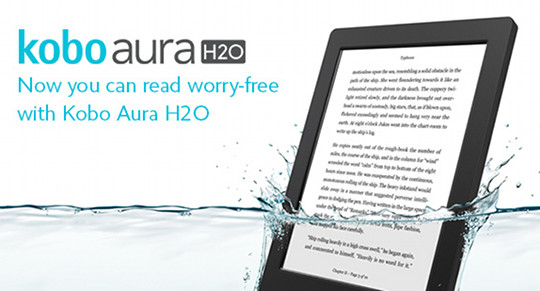 Last week Kobo announced the upcoming release of their latest device, the Kobo Aura H2O, a waterproof and dustproof E Ink ebook reader.
Today Kobo started accepting pre-orders for the new ereader online from Kobo.com. The Aura H2O costs $179, and comes with free standard shipping (oddly there is no express shipping upgrade).
Kobo notes that pre-orders will be taken from September 1st through September 29th. The anticipated ship date for pre-orders is September 29th. I ordered one; expect a review and some comparisons the second week of October.
In the US, ordering from Kobo's website is the only option, and probably will be for at least a few months. But in Canada there are some additional choices. Chapters.Indigo is accepting pre-orders and so is Best Buy Canada. Both say the Aura H2O will be available October 1st.
For those that missed the announcement, the Kobo Aura H2O is Kobo's first waterproof and dustproof ebook reader. The device is even IP67 certified, meaning it's waterproof for up to 30 minutes in 1 meter of water.
Aside from added submersible properties, the Aura H2O is mostly the same as the Kobo Aura HD from last year. It has all the same specs—4GB of memory, microSD card slot, 1GHz processor, LED frontlight—but the 6.8-inch screen has been updated from Pearl to Carta (slight upgrade). The outer casing has changed somewhat too. The new Aura H2O is slightly taller and wider, but is thinner and lighter than the Aura HD.
Check back in about a month for some hands-on reviews and videos of the Kobo Aura H2O in action.