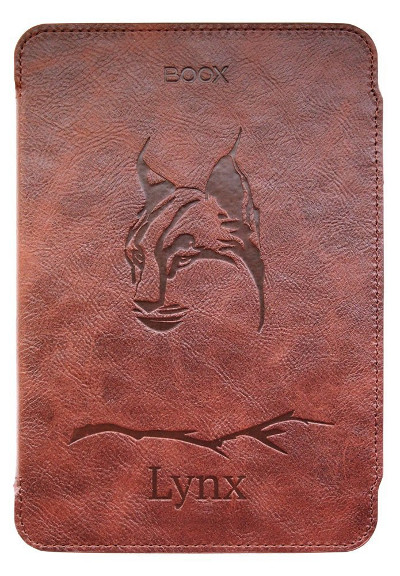 A reader recently pointed out that an official sleepcover is now available for the Onyx Boox T68 on Amazon for $20.
The cover is designed for the Boox T68, specifically the Lynx model (although it would work with the regular T68 too). As the picture below shows, the cover has tabs along each corner to hold the T68 in place, not the less-appealing straps or folds that sometimes cover the corners on generic covers.
The description is slim on information at Amazon, but more details are listed over on Onyx-Boox.com where the same cover sells for 19€ (the cover is also sold through Amazon UK and Amazon Germany).
According to the description, the front cover folds all the way back, and it has two magnets to keep the cover closed. It includes an auto sleep/wake feature that automatically turns the T68 on and off when opening and closing the cover.
The material isn't genuine leather (not for $20); it is described as eco skin. It's a pretty nice-looking cover for $20. I was going to order one to review, but the thing is ever since I got the larger Boox M96 I have no desire to use the T68 anymore.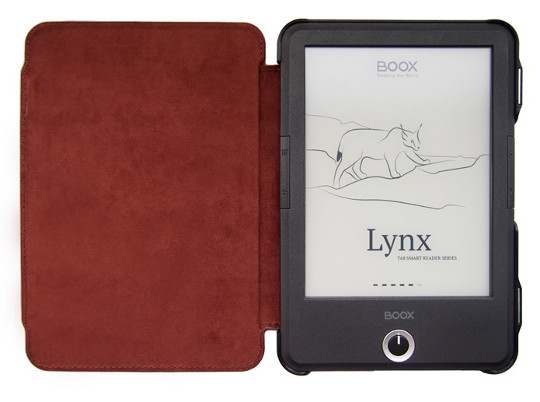 There's one review at Amazon that gives some good descriptive details:
I just got my new cover from the Arta Tech store on Amazon, and I have to say, it's really nice. While I'm pretty sure it's not actually leather, it doesn't feel overly plasticky, and only has a tiny bit of a chemical smell if I put my nose directly on it–no smell at all with just holding it and reading. It has a textured feel, but not "pebbled" like some covers–just a very subtle texture like that of old leather. The inside flap is soft and feels like suede, and there's a clip in tray that holds the reader snugly, but not so tight that I'm afraid I'm going to break the reader when I take it out. The auto-sleep feature works nicely, and I really like that there are 2 separate magnets to hold it closed, one at the top and one at the bottom–it makes me feel a little bit better about putting it in my purse because it holds it closed better….
There's one other official cover for Boox T68 too. It's a regular black protective cover available from an ereader retailer in Germany for 14,20 €. It looks like it's basically the same but without the Lynx logo on the front, and the back has the same Onyx Boox stamp.