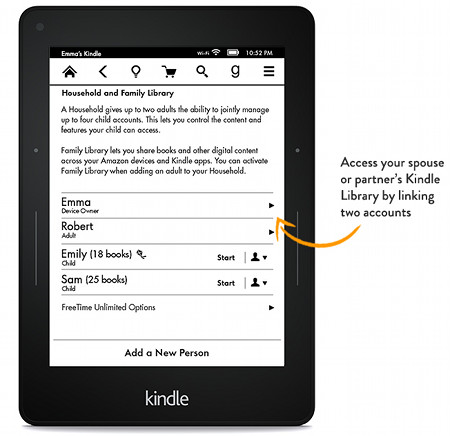 Last week when Amazon officially announced the new Kindle models for this year, they also revealed some interesting new software features that will be coming out soon.
The new Kindle ereaders, and presumably the Kindle Paperwhite since it's not going anywhere, are getting family sharing, enhanced search, more advanced info with About a Book, access to Kindle FreeTime Unlimited, and a new feature called Word Wise that helps make reading challenging books easier.
The new Fire tablets, and most likely the Fire HDX line, are getting a few new software features as well. The software is being updated to Fire OS 4 "Sangria". This adds family sharing, fully customizable profiles, predictive video playback, silk browser enhancements, smart suspend to save battery, and WPS Office integration for creating, editing, and printing Microsoft office files.
The Fire tablets are getting some other upgrades as well. Amazon has created a dedicated keyboard for the Fire HDX 8.9″ tablet, and they've added SlimPorts to the new Fire HD line so that they can easily be connected to a TV or computer monitor with a SlimPort adapter (they are much cheaper than the Miracast adapters required for the HDX).
New Kindle eReader Features
Family Library – Links an Amazon account with a spouse's or partner's Amazon account. This enables sharing Kindle books between accounts. There's also a "Household" feature where two adults can manage up to four kids accounts, as the screenshot above indicates.
Word Wise – When enabled, short and simple definitions automatically appear above difficult words. Tapping on a word brings up cards with definitions, synonyms, etc. You can adjust the number of hints displayed with a slider. Available on many popular English language titles.
About the Book – See additional information about an ebook, including series and author information, plus you can mark it as "Currently Reading" on Goodreads.
Enhanced Search – New enhanced search combines results from your Library, Goodreads, and the Kindle Store to display everything on the same page.
Kindle FreeTime Unlimited – For $2.99+ per month, kids get unlimited access to a curated library of kids books (previously FreeTime Unlimited was offered on Kindle Fire tablets only).
New Fire Tablet Features
Family Library – Links an Amazon account with a spouse's or partner's Amazon account. This enables sharing apps, games, audiobooks, ebooks, and Prime Instant Videos. Family Library also syncs your family's content across multiple devices and Kindle apps.
WPS Office – Gives Fire tablets the ability to create, edit, view, and print Word, Excel, and PowerPoint files.
Profiles – Each family member can have fully customized profiles with individual homescreens, email, Twitter, and Facebook accounts.
Silk Browser Enhancements – Now includes private browsing mode and adds the ability to print.
Smart Suspend – A new battery-saving feature that minimizes battery drain when a device is not in use, creates custom profiles based on individual usage.
ASAP – Immediate video start with ASAP (Advanced Streaming and Prediction) predicts which movies and TV episodes you'll watch next and prepares them for playback to improve start-up speed and smoothness.
FreeTime Camera and Photo – A new photo tool designed for kids, includes editing tools like adding stickers and drawings on pictures, and more.
Screen Mirroring – The latest Fire HD tablets now include a SlimPort enabled micro USB port that lets you connect the tablet to a TV with a SlimPort adapter and regular HMDI cable to view photos and HD videos.