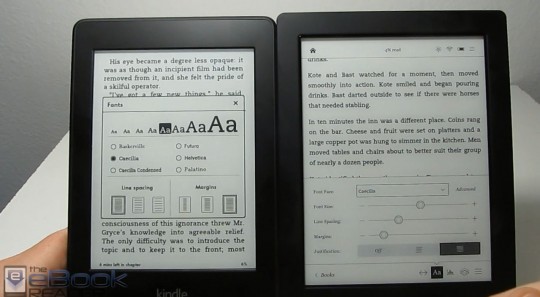 The Kobo Aura H2O is the latest ebook reader from Kobo, and while the Kindle Paperwhite isn't new, it's still apart of Amazon's lineup moving forward, so let's do a comparison review between the two today, and then compare them with the Kindle Voyage when it gets released tomorrow.
The Kobo Aura H2O and Kindle Paperwhite share a lot of similar features both from a hardware and software perspective. Each offers something the other does not, and each has its own unique set of pluses and minuses.
Hardware Differences
The main difference is the screen size. The Kobo Aura H2O has a 6.8-inch 1430 x 1080 resolution screen and the Kindle Paperwhite has a 6-inch 1024 x 758 resolution screen. Both use E Ink Carta screens and appear similar with the frontlights off. The H2O has higher resolution with about 50 extra pixels per inch so things like images and fine details are a little clearer.
Both devices come with frontlights. The tone of the frontlight is noticeably yellower on the Aura H2O. The Paperwhite's light is a little brighter and whiter in tone. Both have a good range of settings, and both lights are evenly distributed across the screen. The Kobo's light can be turned off entirely whereas the Kindle's cannot. The Aura H2O offers a nice shortcut to adjust brightness by sliding a finger along the left edge of the screen that makes it easier to fine tune.
Both ereaders have the same processor and specs, so there's no real difference in terms of performance. The Aura H2O adds a memory card slot and it's waterproof so it gets the edge there.
Software Differences
The Kindle Paperwhite and Kobo Aura H2O share a lot of similar software features, like notes, highlights, bookmarks, dictionary lookup, Wikipedia reference, reading stats, sharing, search, etc. Both have web browsers, collections, and syncing features.
The main difference is the Kobo software offers more text layout settings, more font choices, and you can sideload fonts. There are more sorting options in the library, Pocket integration for reading web articles, and the homescreen has a recent tiles list that is quite unique from other devices. Kobo ereaders support ePub format natively for access to a wider choice of content, the they support CBR and CBZ comic files.
The Kindle Paperwhite offers some additional features, including pinch-zooming, landscape mode for ebooks, annotation export, there's a vocabulary builder, more PDF features, X-Ray, Goodreads integration, and all the exclusive Kindle features like Kindle Unlimited, Kindle FreeTime, and Prime ebooks. Amazon's ebook prices tend to be a little lower and the shopping experience is a little smoother, and there are a lot more reviews to read through to gauge the potential of a new book.
Kobo Aura H2O vs Kindle Paperwhite Video