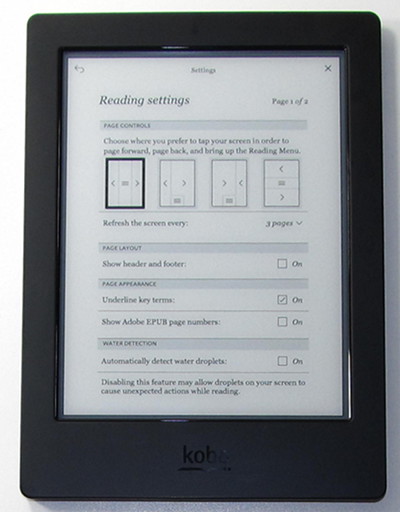 Kobo has been busy issuing lots of new updates for their line of ebook readers lately. Toward the end of August they released version 3.8.0, and now they've got another new version ready to go that adds some more new features and fixes some bugs.
The new firmware has inexplicably jumped all they way up to version 3.11.0. And it's available for the Kobo Glo, Kobo Aura HD, Kobo Aura, and the new Kobo Aura H2O. The original Kobo Touch is expected to get it at a later time, but it will not be released for the Kobo Mini.
New Features and Fixes
The new 3.11.0 firmware offers quite a few new features:
New Touch Zone: The new software adds a fourth option in the Reading Settings menu to customize the tap zones for turning pages and accessing the menu options. The new setting is optimized for one-handed reading.
Keyboard: The keyboard now offers the option to use accented versions of letters by long pressing on them.
Beyond the Book: This feature has been changed slightly to add the option to view related titles from the initial popup window.
Reading Progress: The reading progress feature can now be set to display info for the current chapter or the entire book, and can be set to show page numbers, percentage read, or time remaining in footer.
Dictionary Fix: A bug that caused users to have to re-select what dictionary to use each time has been fixed to remain on the selected dictionary.
Other Changes: There's a new "You've finished" page added to the end of Kobo ebooks that shows reading stats, related titles, and includes a Facebook sharing option. More changes and bug fixes can be found on this post at MobileRead.
Manual Software Update
If you are patient you can wait for Kobo to rollout the new software update over-the-air. It will automatically install and you won't have to do anything. From my experience, that could take weeks or literally months, so it you want the new features now this is how to install the update manually.
1. Download the software for your model:
Mark 4 Hardware: Kobo Aura HD, Kobo Glo and Kobo TouchLC (Low Cost – N905C Model) – Download
Mark 5 Hardware: Kobo Aura and Kobo Aura H2O – Download
2. Plug your Kobo device into a computer. Extract the downloaded file and place its contents in the .kobo folder. Safely eject the Kobo from your computer and unplug the USB cable; the update will automatically install.