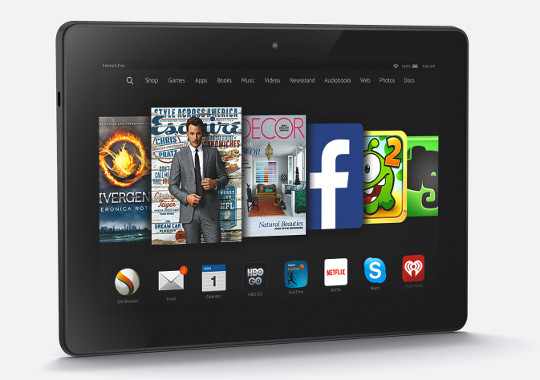 I'll admit, when Amazon announced their new lineup of Kindle ereaders and Fire tablets for this year, I barely paid any attention whatsoever to the new Fire HDX 8.9. I was too interested in the Kindle Voyage and new 6-inch Fire HD to care much about a Fire HDX with only a couple upgrades from the previous model.
So the fact that the new Fire HDX 8.9 is the first tablet to feature Dynamic Light Control to help improve the reading experience on a tablet totally bypassed my attention until just recently.
It turns out that Amazon has added a special sensor to the Fire HDX 8.9 that's designed to take in information about the color temperature of ambient lighting in the room, and change the color temperature of the screen on the fly to make the color warmer and more like a printed book.
The 7-inch Fire HDX and older models don't have the Dynamic Light Control feature; only the newer 8.9-inch model.
I came across a YouTube video posted by Len Edgerly of the Kindle Chronicles showing how it works during an interview with Jon Oakes, director of product management for Kindle, at the unveiling event in September.
The video compares text on paper with an iPad and the Fire HDX 8.9. It shows how the iPad's light is more blue than reading on paper, and how the Fire HDX dynamically changes the hue of the screen to a warmer color more like an actual book.
I find the parallel with the color temperature of frontlights on E Ink ebook readers interesting. The color of frontlights seems to vary widely from one brand to the next, and even sometimes among the same exact model. Some ereaders have frontlights that are blue in tone and others are more yellow. Some people prefer one over the other, and you never really know what you're going to get. Perhaps in the future users will have the option to change the color temperature of the screen on tablets and frontlights on ereaders to suit their preference—that would be pretty cool.
New Fire HDX 8.9 Mimics Paper