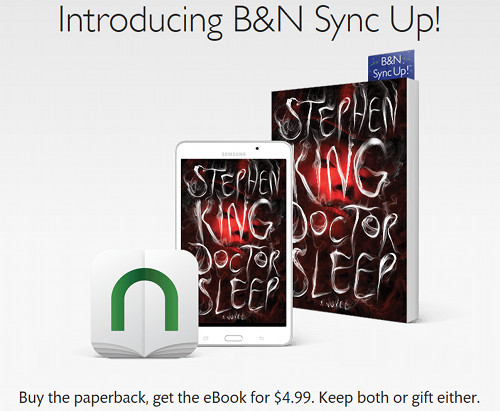 Barnes and Noble has introduced a new promotion called B&N Sync Up where they are giving customers the option to buy the ebook copy of a book for $4.99 when purchasing the paperback version.
The deal is being offered at Barnes and Noble retail stores only; you don't get the same deal when purchasing books online unfortunately.
Clearly B&N is trying to draw in more customers for the busy holiday shopping season. The tagline for the promo is "Keep one, share one — great for gift-giving".
There are about 70 titles available through B&N Sync Up, including The Secret Life of Bees, The Brief Wondrous Life of Oscar Wao, and A Discovery of Witches.
Titles offered in the promotion are identifiable by means of a B&N Sync Up bookmark placed in eligible books. When you pay for the book at the register you get the option to buy the ebook copy for an additional $4.99.
An access code for the Nook book gets printed on the receipt, or you can get it sent via email, or if it's being given as a gift you can get a gift receipt.
This is similar to Amazon's Kindle MatchBook program, where they give customers that purchase a printed book the option to buy the Kindle edition for $2.99 or less, sometimes free, on certain titles.
The name of B&N's promotion is a bit perplexing, though. There's no actual syncing going on, at least not in the typical ebook sense.