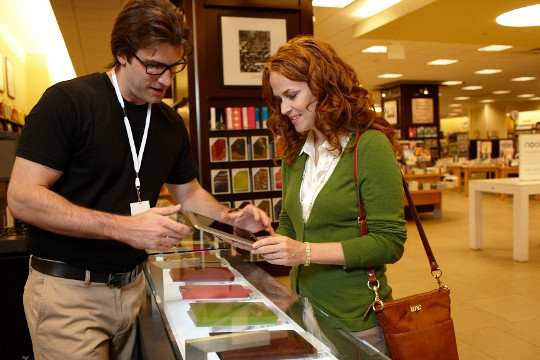 There's an article over on TheStreet.com from last week about how Walmart should buy Barnes and Noble's struggling Nook division.
It's no secret that Barnes and Noble's Nook business has been on a steady decline since 2012, and so far B&N has been unable to find anyone willing to shell out enough cash to unload it.
Microsoft couldn't even help revive Nook with over 600 million dollars invested in the company in early 2013, and now B&N has just turned around and bought Microsoft's 17.6% stake back for 120 million.
Barnes and Noble's new plan is to spin off Nook Media into an entirely separate company from B&N in August 2015.
About the only thing that could stop the spin off at this point is if B&N could find a buyer for Nook.
Walmart doesn't exactly come to mind as a potential buyer, but there's a slight chance it could happen.
According to an anonymous source, Walmart is exploring the idea of entering the ebook business.
If true, purchasing an existing and established ebook business, even an unsuccessful one, could be an easier and quicker route with an infrastructure and customer base already in place than building an ebook business from scratch. And considering all of Nook's recent struggles, Walmart could likely get Nook for cheap.
Still, Walmart buying Nook seems a bit unlikely. As much as they want to increase their share in the digital content market, that's not something that they have shown they can do. And it's hard to see Nook being the thing to turn that around.
via: TheStreet (be warned of annoying auto-run videos and twenty ads per page)