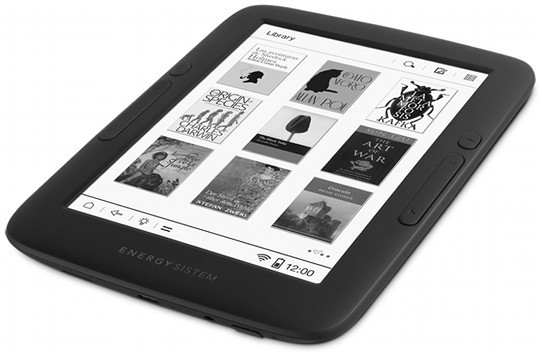 Energy Sistem, a Spanish brand for ebook readers, has recently launched some new ereaders.
Energy Sistem is small electronics company that has been selling ebook readers since at least 2010 with the Energy Book 3050 and 4050 Touch.
I haven't posted about them since last year when the Energy eReader E4 Mini turned up on Amazon. It's no longer sold from there but Energy Sistem still sells it from their website for 37,03€, including VAT.
They've also got three other ereader devices. There's the Energy eReader Slim, a basic non-touch 6-inch ebook reader, and there's a version with a frontlight called the Energy eReader Screenlight.
Both devices appear to be exactly the same except for the frontlight. Both have 800 x 600 resolution E Ink Pearl displays, 8GB of internal memory, microSD card slots, and offer up to one month of battery life per charge. They support Adobe DRM and the following ebook formats: TXT, PDF, EPUB, FB2, PDB, RTF, MOBI.
The Energy eReader Screenlight is a new model that officially gets released tomorrow, January 2nd. It sells for 84,90€ including VAT. The model without a frontlight costs 69,90€.
The most interesting ebook reader of the bunch is called the Energy eReader Pro. It costs 119€ and appears to be a rebranded Boeye T62.
It has a 6-inch E Ink Pearl screen, with a resolution of 1024 x 758. There's a frontlight and capacitive touchscreen. It has 8GB of internal storage, 512MB of RAM, a 1.0 GHZ dual-core processor, and microSD card slot.
It supports Adobe DRM and the following ebook formats: TXT, PDF, EPUB, FB2, HTML, RTF, CHM, MOBI. There's also a headphone jack for audio support.
Like the T62, the Energy eReader Pro runs Android 4.2 and can install Android apps, although it does not come with access to Google Play unless you root the device and install it yourself (here's the directions on how to do that with other rebranded T62/T61 devices).
A few months ago I reviewed the Icarus Illumina HD, which is a rebranded Boyue T61. The T62 is very similar but it has a slightly different design and comes with some hardware upgrades, including the addition of audio support and more memory. It also has a larger battery, which is good because battery life was pretty bad on the Illumina HD. Energy Sistem advertises up to two months for the Energy eReader Pro, but with Android I doubt that's anywhere near typical.