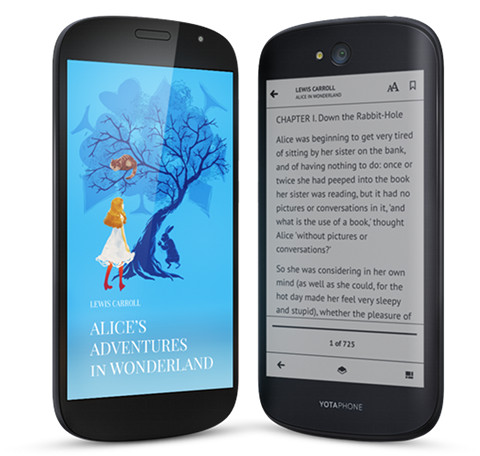 The Yotaphone 2 is an Android-powered smartphone that has a 5-inch color screen on the front and a 4.7-inch monochrome E Ink screen on the back.
What's cool about this second generation model is that you can use the E Ink screen for just about everything, unlike the first Yotaphone that could only use the E Ink screen with certain apps.
A number of companies are releasing new products that are trying to bring E Ink to smartphones in various ways.
There are E Ink devices like the PocketBook CoverReader and InkCase Plus that can be paired with smartphones using Bluetooth. Onyx has a phone with an E Ink screen only. But the Yotaphone 2 looks like the best combination of E Ink and smartphones to date.
After watching the video tour of E Ink's booth at CES and seeing the Yotaphone 2 in action, I headed over to YouTube to check out some video reviews because the E Ink screen looks like it was implemented really well.
This first video is more or less a commercial for the Yotaphone 2 but it does a good job of describing the features and shows various uses for the E Ink screen.
YOTAPHONE 2. The phone with two fronts
The E Ink screen can be used for reading ebooks, making calls, checking messages and social network feeds, displaying images and maps, weather updates, and even videos and games. Unlike most similar devices that only use the E Ink screen as a secondary display for certain apps, the Yotaphone 2 can be operated entirely using the E Ink screen only.
In the videos the E Ink screen appears to work quite well. It's responsive, smooth, and surprisingly quick. Additionally, the E Ink screen will continue to display an image on the screen even when the phone's battery is completely dead, which could be helpful in certain situations.
Using the E Ink screen instead of the front AMOLED display extends the life of the battery significantly. They claim the E Ink screen can be used for up to 100 hours of reading, and the battery can last for up to five days on a single charge, two days with basic smartphone functions. That's pretty good considering most smartphones need to be charged daily.
As far as specs, the phone's hardware includes a Qualcomm Snapdragon 800 processor, 2GB of RAM, 32GB of storage, WiFi, and a 2500mAh battery. It has an 8MP rear camera and 2.1MP front camera.
The 5-inch AMOLED display has a resolution of 1920 x 1080 with 440 ppi, and the 4.7-inch E Ink screen has a resolution of 960 x 540—that's 234 ppi.
The Yotaphone 2 was released in parts of Europe and Asia in December. It sells for £555 in the UK. The Yotaphone 2 is likely headed to the United States later this year, as it recently passed through the FCC for approval.
YotaPhone 2 Review