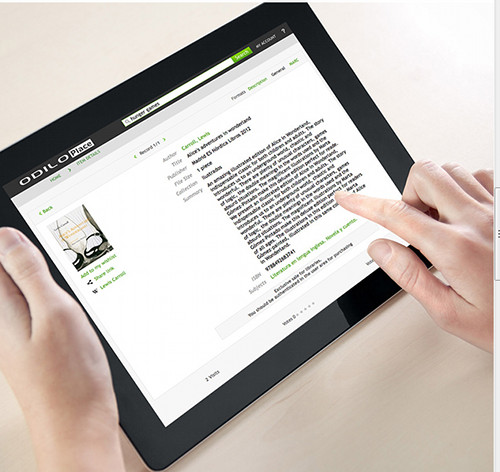 A new distribution service for library ebooks called OdiloPlace has just launched this month in the United States.
When you think about checking out ebooks from public libraries for free, OverDrive is the first company that comes to mind. But there are competing services out there too, and Odilo is the latest to join the race.
OdiloPlace is similar to OverDrive in that they distribute ebooks to libraries for lending. Their catalog debuts with over 60,000 titles with leading publishers like HarperCollins, Macmillan, and Simon & Schuster.
Other publishers included in the program are ABDO, Atlantic Publishing, Book View Café, Diversion Books, Encyclopedia Britannica, Enslow Publishers, Little Pickle Press, Open Road Media, Prologue, Rowman & Littlefield, Untreed Reads Publishing, Xist Publishing, and others.
According to the press release, ebooks from HarperCollins are available to libraries for 26 lends, with a renewal option thereafter. Titles from Macmillan are available to libraries for two years or 52 lends (whichever comes first). Titles from Simon & Schuster are available for one year. All other titles are available on a perpetual one-user, one-copy license.
Odilo as a company has been around since 2011. They are based in Spain and have a strong presence in Spanish speaking countries and have been operating in Europe and Latin America before coming to the U.S.
Like OverDrive, Odilo's ebooks are offered in ePub and PDF formats and they use Adobe DRM. But unlike OverDrive, they don't offer ebooks in Kindle format. Odilo offers audiobooks, music, and videos to libraries as well. And thanks to a partnership with Prologue, customers have access to ebooks in French, with German, Portuguese, and Italian coming soon.
OdiloPlace ebooks are compatible with a slew of devices that support Adobe DRM, including ereaders like Kobo, Sony, Nook, Onyx. There's also a streaming HTML5 cloud reader called NubeReader.