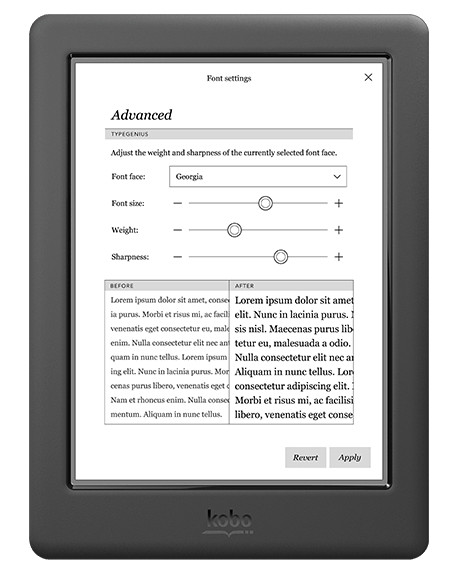 Today Kobo officially announced the upcoming release of the new Kobo Glo HD ebook reader that turned up online a couple days ago.
What makes the Kobo Glo HD unique from other Kobo devices is the super high 300 ppi resolution screen. It's the same E Ink Carta screen that the much more expensive Kindle Voyage uses; and these are the only two that feature E Ink's top-tier display.
The Kobo Glo HD is set to be released on May 1st in Canada, the United States, Australia, and New Zealand.
It will sell for $129 online at Kobo.com and from select retail stores in Canada. According to the press release, pre-orders will begin tomorrow in Canada from Kobo and retailers, and on April 24th in the US, Australia, and New Zealand at Kobo.com, and on May 22nd in France, and June 1st in the UK, Italy, the Netherlands, Germany, and Spain.
The price in Australian dollars is $179.99; New Zealand it's $219.99; United Kingdom it's £109.99; and EU it's €129.99.
Kobo is marketing the Glo HD to new users that haven't used an ereader before. There's a new "Kobo Welcome concierge service" that people can call toll-free to obtain information about how to get started, get ebook recommendations, and find ebook deals.
$129 is a good price for the Glo HD considering the screen; the only other way to get that screen is to buy a Kindle Voyage for $199, and that's with ads. The one without annoying advertisements is $219.
Granted the Glo HD doesn't have the fancy page turn sensors and flush screen like the Voyage, but it has a lot more font choice options and support for ePub going for it.
As suspected from the initial report, there is one noticeable downside with the Glo HD. It does not have a memory card slot; there's 4GB of onboard memory, which is enough to hold about 3,000 ebooks.
The Kobo Glo HD looks like a good device for the price. The one thing that concerns me about this device's release is how much Kobo modeled it after a Kindle. It looks just like a Kindle Paperwhite, the overall features are very similar and the 4GB of storage space and no expansion slot is another striking similarity. Hopefully that doesn't become a trend. The best thing about Kobo is having a good alternative to the Kindle, not having a Kindle clone.
Kobo Glo HD Specs
6-inch Carta E Ink HD screen.
1448 x 1072 resolution, 300 ppi.
Adjustable frontlight.
1GHz processor.
4GB storage space.
Infrared touchscreen likely but not specifically stated.
Wi Fi 802.11 b/g/n.
Micro USB port.
Languages: English, French, German, Spanish, Dutch, Japanese, Italian, and Portuguese.
Supported formats: EPUB, EPUB3, PDF, and MOBI (barely), TXT, HTML, XHTML, and RTF, CBZ and CBR, Adobe DRM.
TypeGenius: 11 fonts, 48 sizes, exclusive weight and sharpness settings.
Color: Black.
Battery: Up to 2 months (with WiFi and frontlight off, 30 minutes daily).
Weight: 180 grams.
Dimensions: 157 x 115 x 9.2 mm.
Price: $129