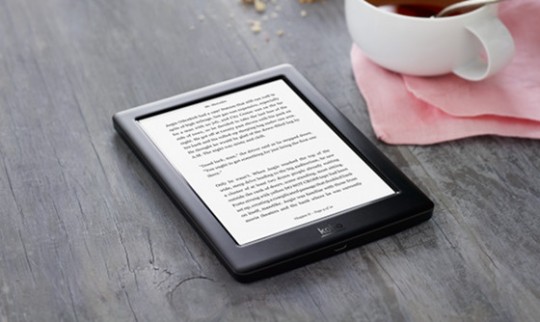 If Kobo operated with the same ruthless killer instinct as Amazon, the new Kobo Glo HD could be a major game-changer in the ebook reader industry.
The Glo HD is essentially an updated, better version of the Kindle Paperwhite, and it sells in the same price range. What's more, the Glo HD took the best feature from the Kindle Voyage, the 300 pixel-per-inch E Ink Carta display, and it sells for $70 less.
At $200 for the ad-ridden version and $220 without ads, complaints that the Kindle Voyage is too overpriced are going to escalate even more.
Having to pay an extra $70-$90 for the Kindle Voyage seems like a pretty steep climb just for the added page sensor buttons that only work in portrait mode, an automatically adjusting frontlight that never quite adjusts how I'd like it, and a flush capacitive touchscreen.
The Kobo Glo HD has some software advantages over Kindles too. There's the added support for ePub, and a couple other formats. But the biggest advantage with Kobo's software is all the extra font options. There are more font types to choose from, plus you can easily add your own. There are more adjusting options; one of the best is being able to modify weight to make text appear bolder and darker.
The Kobo Glo HD definitely has some good things going for it, and it stands up against the current line of Kindles very well, especially with a price tag of $129, but how much of a difference is any of that really going to make?
The problem with Kobo is . . . they're Kobo. They've already shown that they have little interest in the US market. How can anyone expect Kobo to take on Amazon in their home market when Kobo doesn't even make their ereaders accessible to customers in the US?
Kobo pulled out of all major retail stores in the US a few years ago. Pretty much the only way to get a Kobo ereader in the US is to order it sight-unseen from a Canadian retailer like Chapters.Indigo or from Kobo.com. Maybe some random independent bookseller in a small town in Montana has one Kobo ereader in stock to sell, but you can hardly consider that a retail presence.
Until Kobo makes an effort to accommodate the US market, one of the biggest ebook/ereader markets in the world, they have no chance of seriously contending with the Kindle no matter how good or how cheap their devices are, because the simple fact is the vast majority of people in the US have never even heard of Kobo, and Amazon is Amazon.
If Amazon started offering a Kindle Paperwhite HD tomorrow for $149, they'd still probably have no trouble selling ten times as many as Kobo would the Glo HD, despite the price increase, because everyone is familiar with Kindles and Amazon, whereas most people don't know anything about Kobo, and Kobo has shown very little effort to change that.