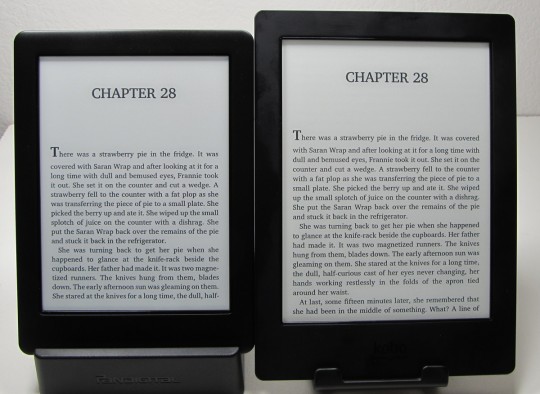 For today's review I'm going to compare the Kobo Glo HD with the Kobo Aura H2O.
This comparison review is going to be easy because both devices are virtually identical from a software perspective and share all the same exact reading features and settings.
Both share the same processor too so neither has an advantage when it comes to overall speed and performance.
Both have 4GB of onboard storage space, Wi-Fi, a micro USB port, and the same estimated battery life of up to 2 months (1 month is more realistic). The same languages and formats are supported, they have the same font choices and font sizes, the same infrared touchscreen, and so on.
The main difference between them is the Aura H2O has a larger screen, a microSD card slot, and it's waterproof. The Glo HD retails for $129 and the Aura H2O is $179, so there's a pretty big difference in price too.
It's worth noting that both devices are running firmware version 3.15.0 for this comparison review. Everything seems the exact same between them with this software version except the Beta Features. The Glo HD only has a web browser listed, whereas the Aura H2O adds a sketchpad and a few games.
Below is a list of the main differences between the Glo HD and Aura H2O.
Kobo Glo HD vs Kobo Aura H2O Differences
Screen – The Aura H2O has a 6.8-inch screen with a 1430 x 1080 resolution (265 ppi) and the Glo HD has a 6-inch screen with a resolution of 1448 x 1072 resolution (300 ppi). Both use E Ink Carta screens with infrared touch. Text basically looks the exact same on both screens; the pixel density is so similar that it's hard to see any difference.
Frontlight – Both have frontlights with a similar range of brightness settings, but the color of the frontlights is very different. The H2O's frontlight is yellow in tone, and the Glo HD's is more of a whitish color, with a hint of blue. Both show a little bit of shadows at the bottom of the screen but the light is otherwise evenly distributed. Frontlights are known to vary from unit to unit so take it with a grain of salt.
Size – The size and weight difference is fairly significant: The Aura H2O weighs 233 grams and measures 179 x 129 x 9.7mm. The Glo HD weighs 180 grams and measure 157 x 115 x 9.2mm
Waterproof – As the name suggests, the Aura H2O is waterproof7mdash;it's also dustproof and even freezeproof. It's IP67 certified and can be immersed for up to 30 minutes in up to 1 meter of water.
Memory Card Slot – The Aura H2O has a memory card slot for cards up to 32GB; the Glo HD does not have a memory card slot (however, the internal card can be cloned and written to a larger capacity card if you really want more space).
Design – The Kobo Aura H2O has more of a premium, high-end feel to it. It has a soft, slightly rubbery coating on the front and back that has a nice feel but it does show fingerprints easily. The Glo HD has a little more of a budget plastic feel to it by comparison, but it's still a nice and solid device. The back has a soft stippled material that feels nice. The front is hard plastic that doesn't show fingerprints or smudges.
Concierge Service – One feature that is exclusive to the Kobo Glo HD is the new "Kobo Welcome" concierge service that offers users getting started tips and personalized ebook recommendations and offers by calling a phone number.
Kobo Glo HD vs Kobo Aura H2O Video