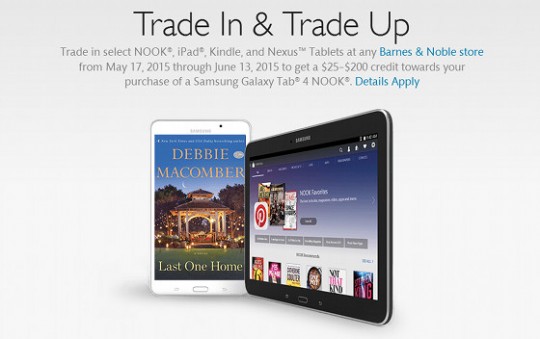 Barnes and Noble has started running a new trade-in promotion to entice people to trade an old ebook reader or tablet for credit toward the purchase of a Samsung Galaxy Tab 4 Nook tablet.
B&N is accepting select Nook, Kindle, iPad, and Nexus devices for trade in. The credit ranges from $25-$200 toward the purchase on a Galaxy Tab 4, either 7-inch or 10-inch models.
All trade-ins have to be done at B&N retail stores. The trade in promotion runs from May 17th, 2015 through June 13th, 2015.
The table below lists the trade-in value for the range of devices that B&N is accepting. Some of the values are pretty pathetic; you'd be better off selling the device on eBay for twice as much.
The credit value for older Nook ebook readers is pretty good, though. $50 for a 1st Edition Nook and Nook Simple Touch is considerably more generous than $25 for a Kindle Paperwhite or Nexus 7, especially when you can buy a new Nook Touch on eBay for $40 with free shipping.
Barnes and Noble also just cut the price of their Galaxy Tab 4 Nook tablets, which isn't surprising now that Samsung has started releasing new tablets for 2015. The 7-inch Tab 4 Nook used to sell for $179; now it's down to $149. The 10-inch is $279. The regular Galaxy Tab 4 is almost always cheaper on Amazon, and it still is at $139, so B&N still can win. But if you've got an old device to trade-in you can get a Galaxy Tab 4 Nook at a pretty steep discount.
Trade In Devices
NOOK Devices
NOOK 1st Edition Wi-Fi®
$50
NOOK 1st Edition™ Wi-Fi and 3G
$50
NOOK Color®
$50
NOOK Tablet®
$50
NOOK Simple Touch®
$50
NOOK Simple Touch with Glowlight®
$50
NOOK HD®
$50
NOOK HD+®
$50
Third Party Devices
Kindle
$25
Kindle Keyboard
$25
Kindle Fire
$25
Kindle Touch
$25
Kindle Paperwhite
$25
Kindle Fire HD
$25
Nexus 7 (First Generation)
$25
Nexus 7 (Second Generation)
$25
iPad (First Generation)
$50
Kindle DX
$100
Kindle Fire HDX
$100
Nexus 10
$100
iPad 2
$100
iPad 3
$100
iPad Mini (First Generation)
$100
iPad 4
$200
iPad Air (First Generation)
$200
iPad Air 2
$200
iPad Mini 2
$200
iPad Mini 3
$200