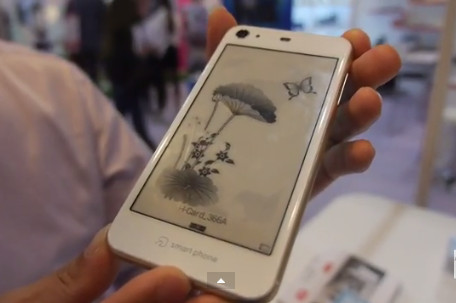 It looks 2015 is going to be the year of the dual screen E Ink smartphone, as this is the third dual screen E Ink phone article this week.
The Yotaphone 2 was the first dual screen E Ink phone to hit the market early this year; it's expected to come to the U.S. in August through an Indiegogo crowdfunding campaign.
Now other companies are coming up with Yotaphone clones, such as the Siswoon R9 Darkmoon and Huateng Flag D1.
Both are aiming to undercut the Yotaphone's high $550-$600 price tag. In fact the Huateng Flag D1 could go for less than half of that.
Like the other dual screen phones, the Huateng Flag D1 has a 5-inch color LCD screen on one side of the device and a 4.7-inch E Ink screen on the other side.
The E Ink screen is meant to save power and make reading easier and more pleasant in bright lighting. You can use the E Ink screen to read ebooks, emails, view pictures and messages, etc.
The specs are very similar to the R9 Darkmoon; it has the same processor, the same Android 5.0 operating system, and the same dual screens.
Production is expected to start soon. Sony is apparently interested in the device, according to the spokesman.
Huateng Flag D1 Specs
MediaTek MT6752 1.7Gh 64-bit OctaCore processor.
Android 5.0 Lollipop operating system.
Front Display: 5-inch IPS FHD 1920×1080 pixel resolution.
Back Display: 4.7 E Ink 960×540 pixels.
2 GB RAM.
16 GB ROM.
13 MP rear camera with LED flash.
5 MP front camera.
Dual-SIM: Micro SIM+NANO SIM/TF card, dual standby.
2,000 mAh Battery.
$180 E Ink and LCD dual-display phone by Huateng