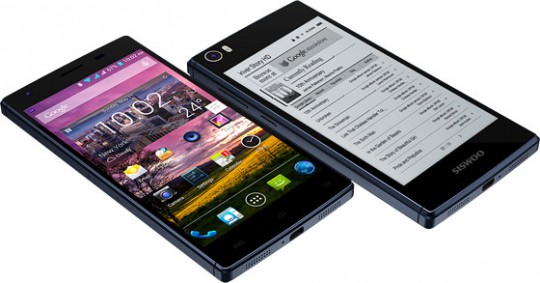 The Siswoon R9 Darkmoon is a new dual screen smartphone with an E Ink screen on one side and an LCD screen on the other.
Smartphones that incorporate E Ink screens are starting to become more popular. Some like the InkCase are secondary E Ink displays often added to covers to pair with a phone using Bluetooth, there's the Onyx Midia InkPhone with an E Ink display only, and dual-screen devices like the Yotaphone and now the Siswoon R9 Darkmoon.
The point of using an E Ink screen on a phone is to increase battery life, since E Ink uses very little compared to LCD, and to improve readability under bright light.
Devices like the R9 Darkmoon give you the option to switch over to the E Ink screen to read ebooks, emails, notifications, and so to save battery life and to get a better reading experience outside in the sunshine.
The R9 Darkmoon sports better specs than the Yotaphone 2. But it's probably still a ways off from being released. The picture isn't even real. They just took a picture of an iriver Story HD ebook reader and copied the screen's image onto a picture of a phone.
It looks like Siswoo is still trying to finalize the design, as they are accepting final suggestions for the R9 Darkmoon on their forum. That means prototypes still have to be made and the design has to be finalized before production will begin, so perhaps toward the end of the year the R9 will be another option for a dual screen E Ink smartphone.
Siswoon R9 Darkmoon Specs
MediaTek MT6752 1.7Gh 64-bit OctaCore processor.
Android 5.0 Lollipop operating system.
Front Display: IPS OGS 5.0 FHD 1920×1080 pixels 401 ppi pixel density.
Back Display: 4.7 E Ink 960×540 pixels.
3 GB RAM.
32 GB ROM.
MicroSD card slot for cards up to 64GB.
13 MP rear camera with LED flash.
8 MP front camera.
Dual-SIM.
Connectivity: WiFi, NFC.
3.000 mah Battery with Qi Wireless Charging.