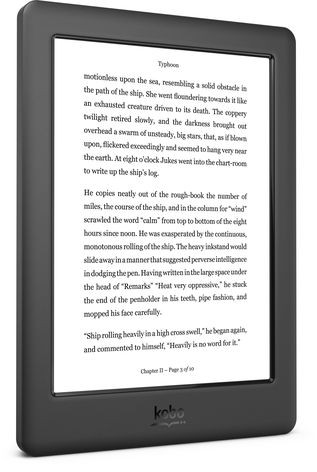 Kobo has started rolling out a new software update, version 3.16.0. Unlike most updates, this one is only being issued to a couple of models, the new Glo HD and the old Kobo Touch.
Like usual, the update adds a couple of new features and fixes a few bugs (and hopefully doesn't add new ones).
You can download the 3.16.0 software update from the Kobo Firmware thread at Mobileread and install it manually.
Or you can just wait for the update to automatically download and install over WiFi. Kobo rolls out updates to different regions at different times, so it might be a couple weeks for the auto update to happen.
Here are some of the changes mentioned in the 3.16.0 discussion thread at MobileRead, thanks to davidfor:
Release Notes

Design Updates: Your Kobo Touch now features the new look and feel of the Kobo eReader software.
Search Improvements: You can now search current reads, annotations, and dictionaries more easily.
Quick Wi Fi Settings: Tap the Wi Fi icon in the status bar to access the new Wi Fi menu.

Some smaller changes that were included and mentioned in the betas were:

Improved 'Related reading' tab on Book details screens.
Renamed 'Document Default' font to 'Publisher Default'.
Improved EPUB performance – I can't comment as I didn't see the performance degradation that some others saw with 3.15.0.
Improved hyphenation handling – kepub and epub and should improve all languages.
New checkout flow arrives for Kobo Touch.
Fixed some timing issues in which the device could stay in a black-and-white-only mode instead of greyscale.
Re-enabled image/PDF zoom on non-Aura devices.
Pocket: End-of-article dialog text cut off.