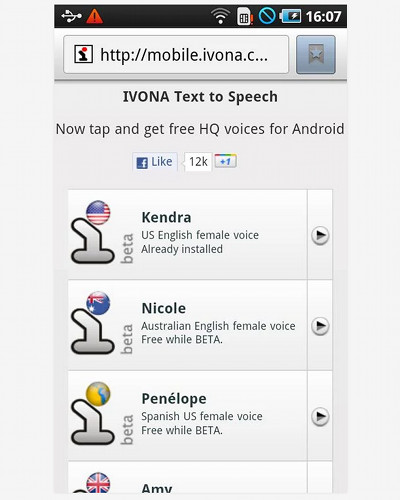 A few days ago I posted about the various Kindle devices and apps that support text-to-speech. That got me thinking it would be a good idea to put together a list of Android ereading apps that also support text-to-speech (TTS for short).
Having ebooks read aloud is a handy feature to have sometimes, especially now that text-to-speech voices are much better than they used to be, with more natural human voices than the monotone robotic voices of old.
Most Android tablets and smartphones support TTS. It's built into the Android operating system.
Some devices come with a TTS engine pre-installed. Others need to install Google Text-to-Speech. One of the more popular TTS engines is IVONA.
None of the big store ebook apps like Kindle, Kobo, and Nook support text-to-speech natively, but there are accessibility apps like Google Talkback that can be used to read screen content aloud—it's not as convenient or as easy-to-use as regular TTS but it can get the job done.
Android eBooks Apps with TTS
Google Play Books – Supports TTS, even on DRM'd ebooks when the publisher allows it.
AlReader – Supports fb2, fbz, txt, Drm-free epub, html, doc, docx, odt, rtf, mobi (no DRM), prc (PalmDoc), tcr formats.
FBReader – Supports text-to-speech with this seperate FBReader TTS+ Plugin.
Cool Reader – Supports epub (non-DRM), fb2, doc, txt, rtf, html, chm, tcr, pdb, prc, mobi (non-DRM), and pml formats.
Moon+ Reader Pro – One of the perks of the paid version is the addition of TTS, which can be activated by shaking your device.
Bookari Ebook Reader Premium – The paid version of Bookari supports TTS. App previously called Mantano.
Reedy. Intelligent reader – This app offers regular, speed reading, and text-to-speech voice reading. It supports epub, fb2, html and txt formats.
eReader Prestigio – Has TTS for reading ebooks aloud in multiple languages and supports epub, djvu, html, fb2, fb2.zip, txt, pdf, mobi, epub3 formats.
Text Voice Text-to-speech and Audio PDF Reader – Supports PDF and TXT files.
ezPDF Reader – A paid app that supports PDF format mainly but DRM-free ePub is supported too.