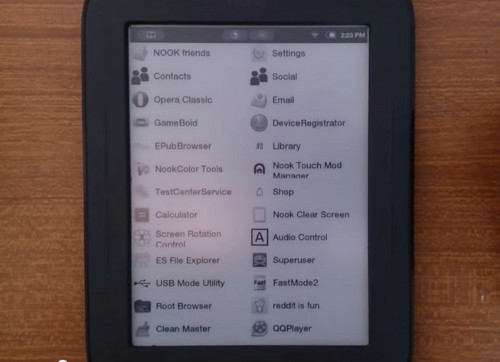 Earlier this week I came across a YouTube video showing a Nook Simple Touch running the latest and final version of the FastMode + USB Sound ROM.
As the name implies, FastMode helps make the Nook refresh the E Ink screen faster—even fast enough to play videos—and USB Sound adds audio support to the Nook via the USB port, which is something that it doesn't support normally.
According to the developer, the ROM is fully compatible with the Nook Simple Touch and the Nook Simple Touch with GlowLight (it's not compatible with the newer Nook GlowLight).
You can find the download and install directions for the FastMode & USB Sound ROM on this thread at the XDA forums.
Playing videos and audio isn't anything that is new for the Nook Touch, but I still can't help but be amazed after all these years how many different ways people use Nook ereaders.
Plus it's surprising just how smoothly an E Ink Nook can play videos, especially considering the older single core 800 MHz processor that it uses. The Nook Touch is proof that that's all E Ink ereaders need because it's still to this day the fastest E Ink ereader out there.
People are always complaining when new ereaders come out that they don't have newer, faster processors. Most E Ink ereaders released now come with single core 1.0 GHz processors, and some of the Android-powered E Ink ereaders have dual-core 1.0 GHz (and supposedly 1.2 GHz in a couple cases). None of the Android devices with those faster processors are anywhere near as fast as an optimized Nook Touch, and battery life isn't as good with them either.
Four years after its initial release, the Nook Touch is still one of the most versatile E Ink ereaders out there. It's good to see that developers are still working on it. In fact a CM11 ROM with Android 4.4 is currently under development.
Nook Touch: FastMode + USB Sound