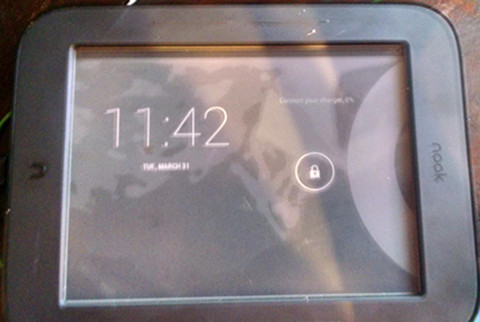 It's always good to see the Nook Touch still getting some attention from developers, even after four years since its initial release.
A couple months ago I posted an article about the Nook Touch running Windows 95 and other emulators, along with the Impossible Game.
Now developers are working on getting the Nook Touch (and Nook Touch with GlowLight) to run a CM11 ROM.
CM11, aka Cyanogenmod 11, is based on Android 4.4 KitKat.
The Nook's regular software is based on Android 2.1, which is really outdated for 2015. Being able to run newer software on the Nook Touch opens it up to all kinds of new possibilities, with more apps and less incompatibility issues.
What's cool about the CM11 ROM for the Nook Touch is it can be run entirely off a microSD card, so you can still keep the Nook's regular software, hacked or stock, intact and fully functional while using CM11 on a memory card. It's like having two Nooks in one.
The CM11 ROM is still under development, in what's called a pre-Alpha release stage. The ROM is functional and there's a lot you can do with it in its current state, especially if you are familiar with Android.
Developers have also got TWRP (TeamWin Recovery Project) working to create backups, restore, and flash ROMs.
Check out the NST future CM11 & TWRP thread at XDA for more information on the project, and to download the ROM if you want to try it.