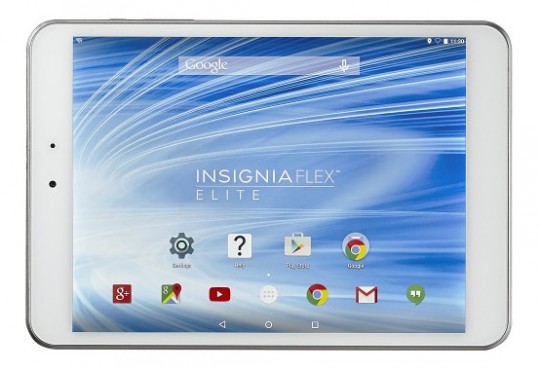 Best Buy recently started carrying a new Android tablet called the Insignia Flex Elite. The screen and overall design are reminiscent of the latest iPad Mini.
I often highlight tablets with high resolution screens because they are the best tablets for ereading. The Insignia Flex Elite definitely fits that bill with its 7.85-inch 2048 x 1536 resolution screen, which equates to an impressive 326 pixels per inch.
At $149, the price isn't bad either. There's also a cheaper $99 model with a lower resolution 1280 x 800 screen.
The Insignia Flex Elite runs Android 5.0 Lollipop and it comes with 16GB of storage space, a microSD card slot, a quad-core 1.8 GHz Rockchip processor, 2 gigs of RAM, Bluetooth 4.0, and dual cameras.
There is one noticeable drawback in terms of specs. Battery life is only rated at 6 hours. Lower battery life is often one of the main things that separates budget tablets with brand name tablets.
The new Asus ZenPad 8 has a similar screen and specs. Its estimated battery life is in the 8/9 hour range. It costs $50 more, however, but it has some other hardware upgrades too.
Nonetheless, the Insignia Flex Elite is an intriguing tablet for the price, especially if it ever goes on sale in the $129 range. Unfortunately there are no reviews posted at Best Buy yet so there is no word on overall performance. Sometimes high resolution tablets can bog down more having to run all those extra pixels, so that's something to look out for.
Insignia Flex Elite Specs
7.85″ IPS screen
2048 x 1536 resolution
Android 5.0 (Lollipop) operating system
Rockchip 3288 quad-core processor, 1.8 GHz
16GB onboard storage space
RAM: 2GB
GPS
Headphone jack
MicroSD card slot
Wi-Fi
Bluetooth 4.0
Cameras: 2.0MP front; 5.0MP rear
Battery life: 6 hours
Weight: 11.2 ounces
Dimensions: 7.9″ x 5.4″ x 0.3″