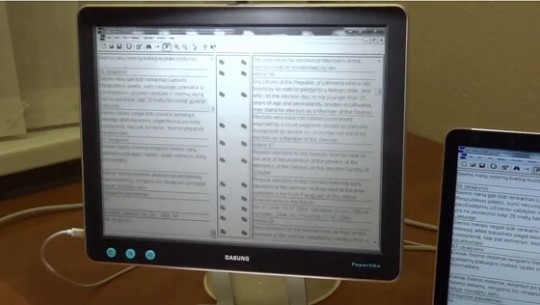 Earlier this year we first saw the PaperLike E Ink Monitor from Dasung, and now there are several video reviews on YouTube showing it in action.
The PaperLike is a 13.3-inch E Ink monitor that connects to a computer's USB port to use the device as a secondary display. It uses so little power that the USB port provides all the power it needs to run.
The E Ink screen doesn't have any light source; it's like a regular E Ink screen without a frontlight, so it provides a completely different kind of reading experience than typical LCD computer monitors.
The PaperLike features a 13.3-inch screen with a resolution of 1600 x 1200.
The display uses E Ink's Fina screen technology, which is glass-based, unlike Sony's 13.3-inch DPT-S1 PDF reader, which uses a flexible plastic-based Mobius screen.
The Dasung PaperLike offers three screen modes for different combinations of details and speed. There's a manual refresh button to press when the screen gets muddy with images and ghosting.
Several pleasantly-narrated video reviews of the PaperLike monitor turned up on YouTube yesterday. Take a look…
PaperLike – Creating Translation Memory in Trados
Typing on Dasung PaperLike in Word, PDF, etc
Using Feedly, Facebook, Google+, etc
Using Dasung Paperlike for Trados